A BACKYARD WEDDING AT CHATEAU DE REDON
Seóna & Ben are truly one of a kind, and so was their wedding day. They flew from Ireland to celebrate their love during an intimate backyard wedding at Chateau de Redon, in the South West of France. A simple, elegant, and (very) festive day with a modern terracotta colour palette.
These two wonderful souls first met through a mutual friend in 2010. Seóna had recently moved to Belfast in Northern Ireland from Dublin in Ireland to complete a Master's Degree and Ben was studying at the same time. They would bump into each on the university campus but they didn't really speak much more than a passing hello. It was another eight years before their paths would cross again…! Yes, just like in the movies. They went on a first date in 2018 and met for a spontaneous drink at a bar on the river in Belfast. When they began to catch up: they realized they had lots of mutual friends and, strangely,… that they also shared the same birthday!
As a wedding photographer and a wedding videographer, Seona and Ben made us feel at home. They welcomed Tom and me as their friends. We laughed, we cried, we danced, and we vibrated with them all along their special day.
I now invite you to discover the full testimony of Seóna & Ben. Navigate through the images of their magical French backyard wedding at Chateau de Redon and their Wedding Film below!
↓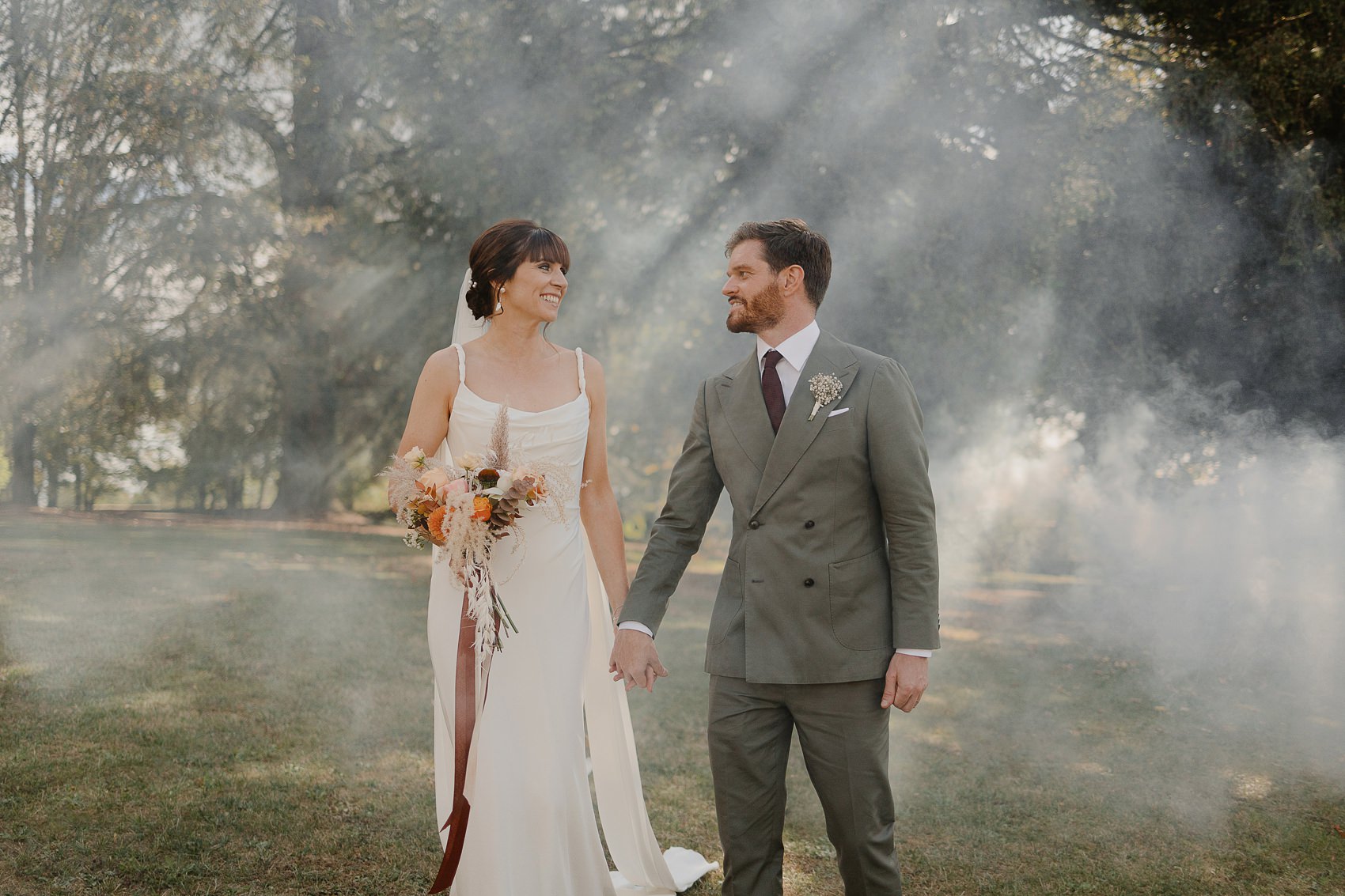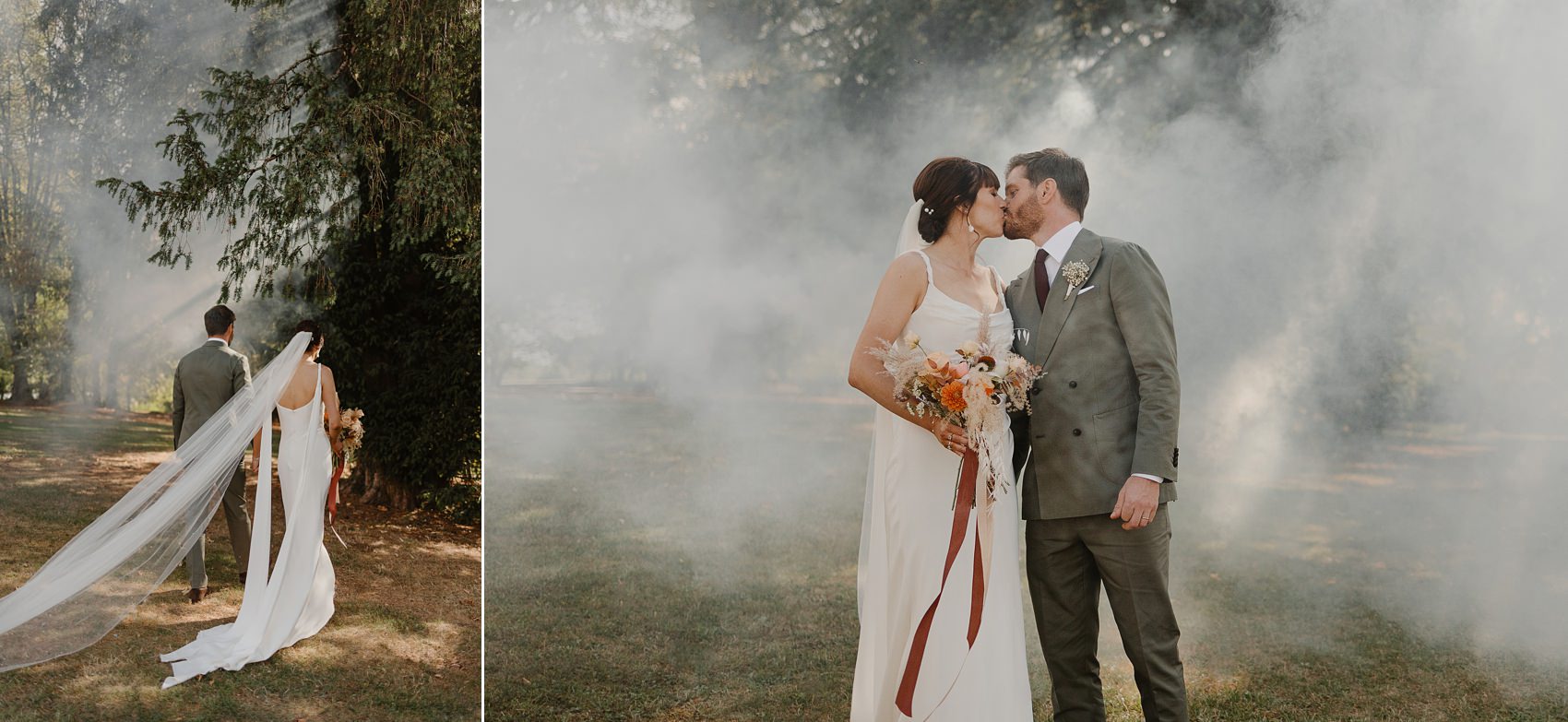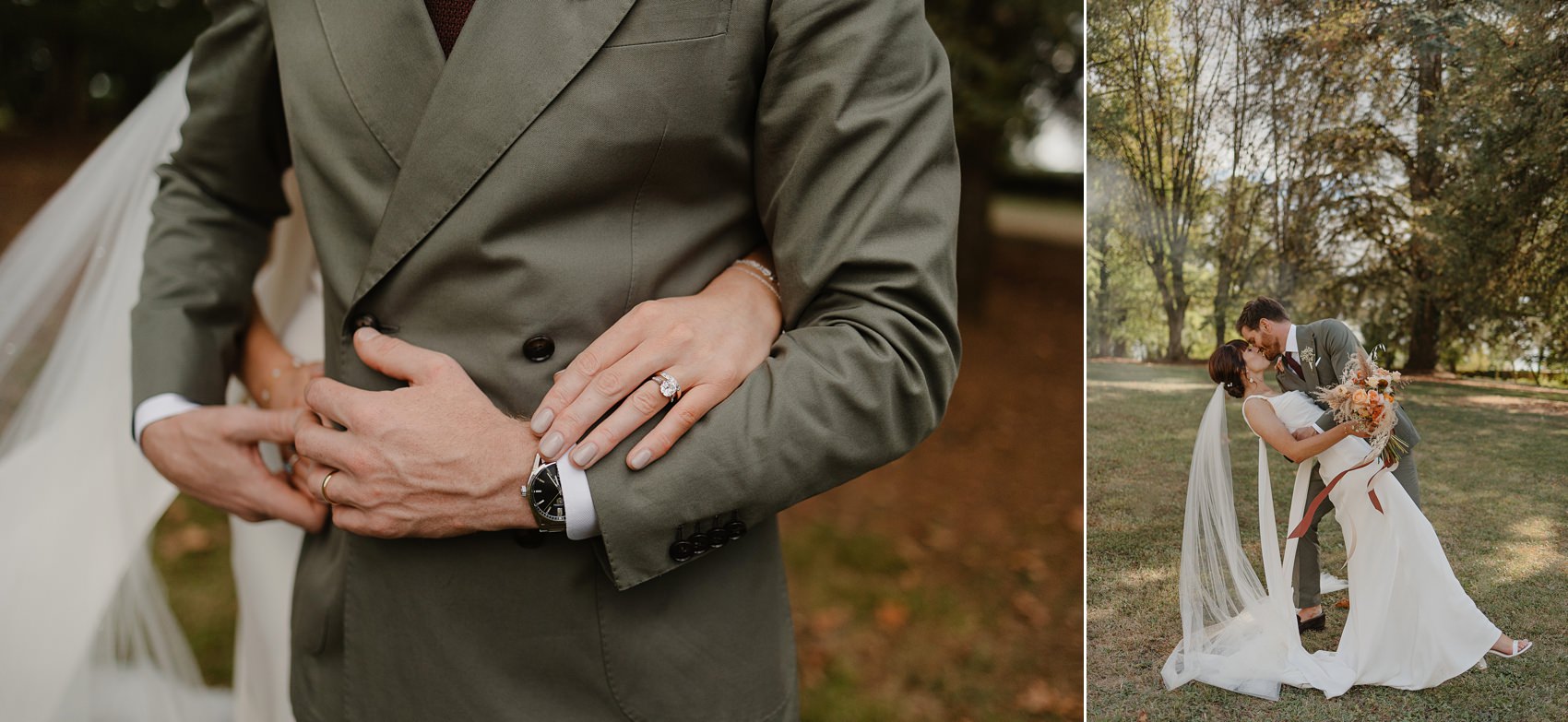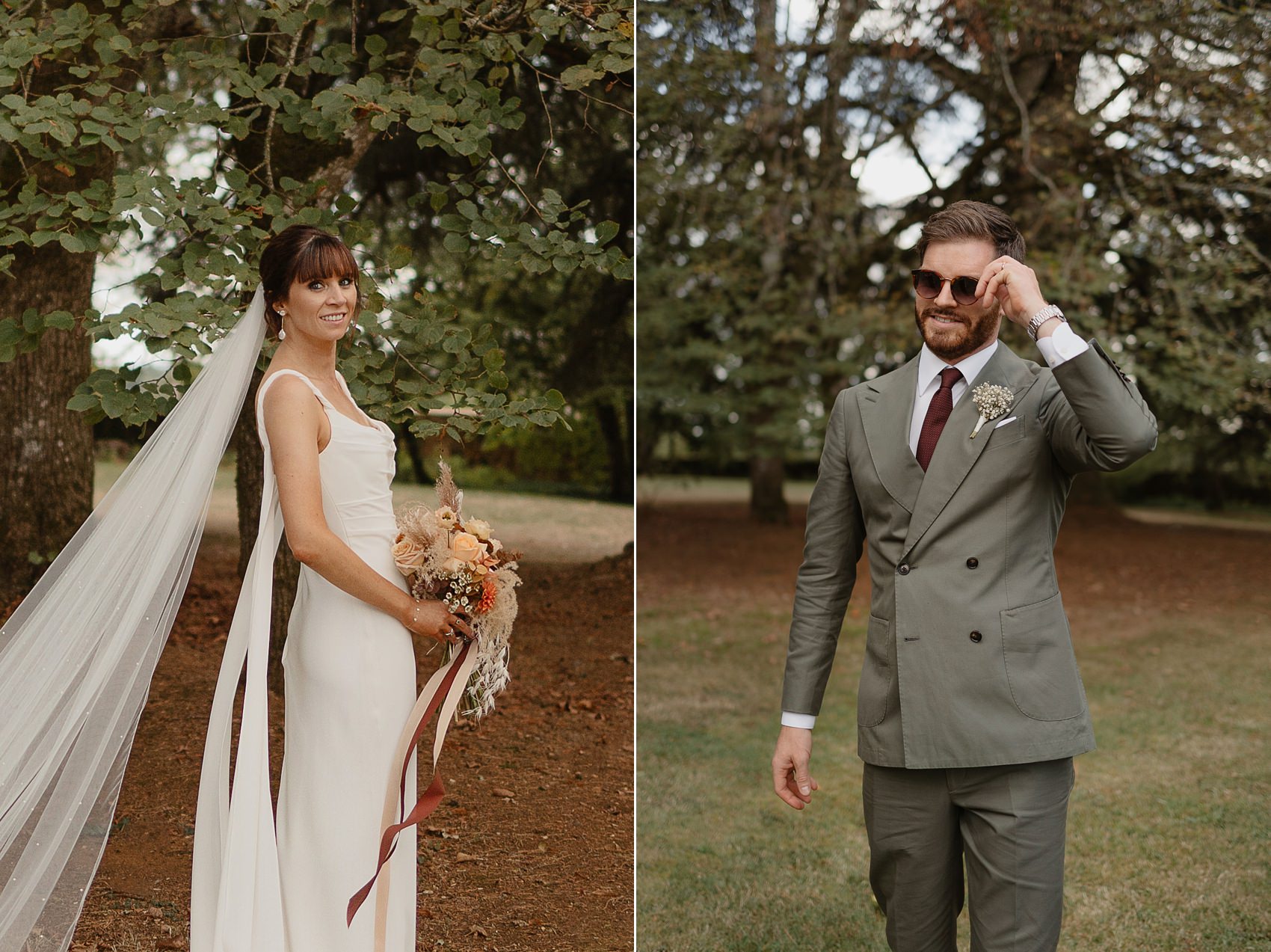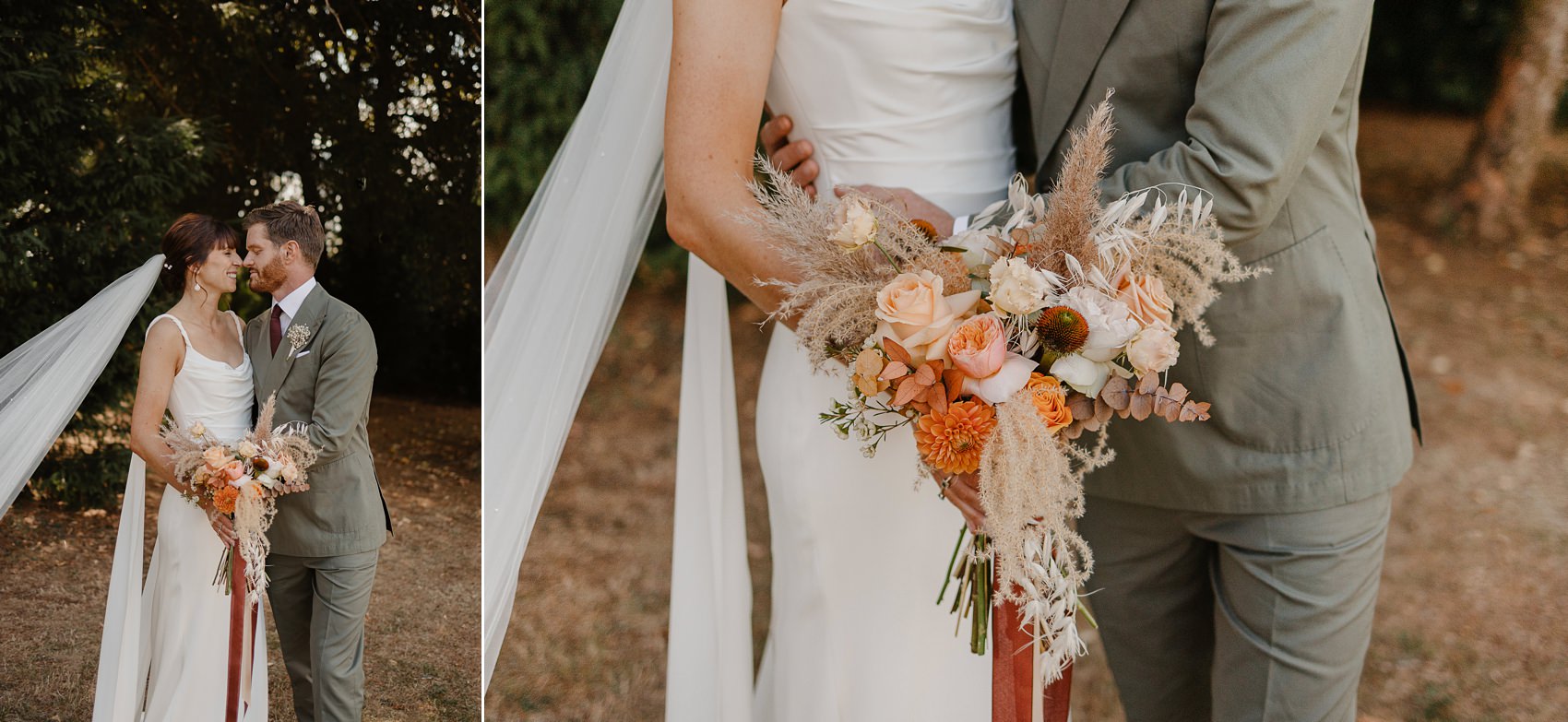 HOW DID THE PROPOSAL GO?
Seóna remembers: « When Ben proposed, it was very much a surprise! But he thought through all of the details and had the proposal planned out so perfectly.
The weekend Ben proposed began like any normal weekend. He got up to go to golf and I had my alarm set to get up to prepare for my brother and his wife's visit that weekend. Actually, Ben turned off my alarm in the middle of the night! I only woke up when my phone rang and it was Ben, asking me to make sure he had locked the back door. I went to check and was very confused when I stumbled upon white petals on the floor as well as flowers and candles in the sitting room! I went out to close the back door and it was only then that I realized Ben was in the garden. It was raining, I had no shoes on, and was in the oldest pajamas I owned but it didn't matter when Ben got down on one knee! »
Ben: « We had some champagne to celebrate and called our loved ones and when Seóna's brother and her sister-in-law arrived, we had a lovely breakfast and then went out to get a coffee. I knew Seóna would have liked to be with her parents and sister too, so he had arranged for them to sneak into our house, decorate it, and surprise us when we returned. I then had arranged for us to meet my family for drinks and to then go to our favourite restaurant for dinner – it was such a special and fun day. »
Fun Fact: A few weeks before they got engaged, Seóna went out for dinner with a friend. Little did she know but when she was out, Ben drove to her parents' house in Dublin, a two-hour drive away, to ask for their blessing and then drove swiftly back up to collect Seóna from the restaurant!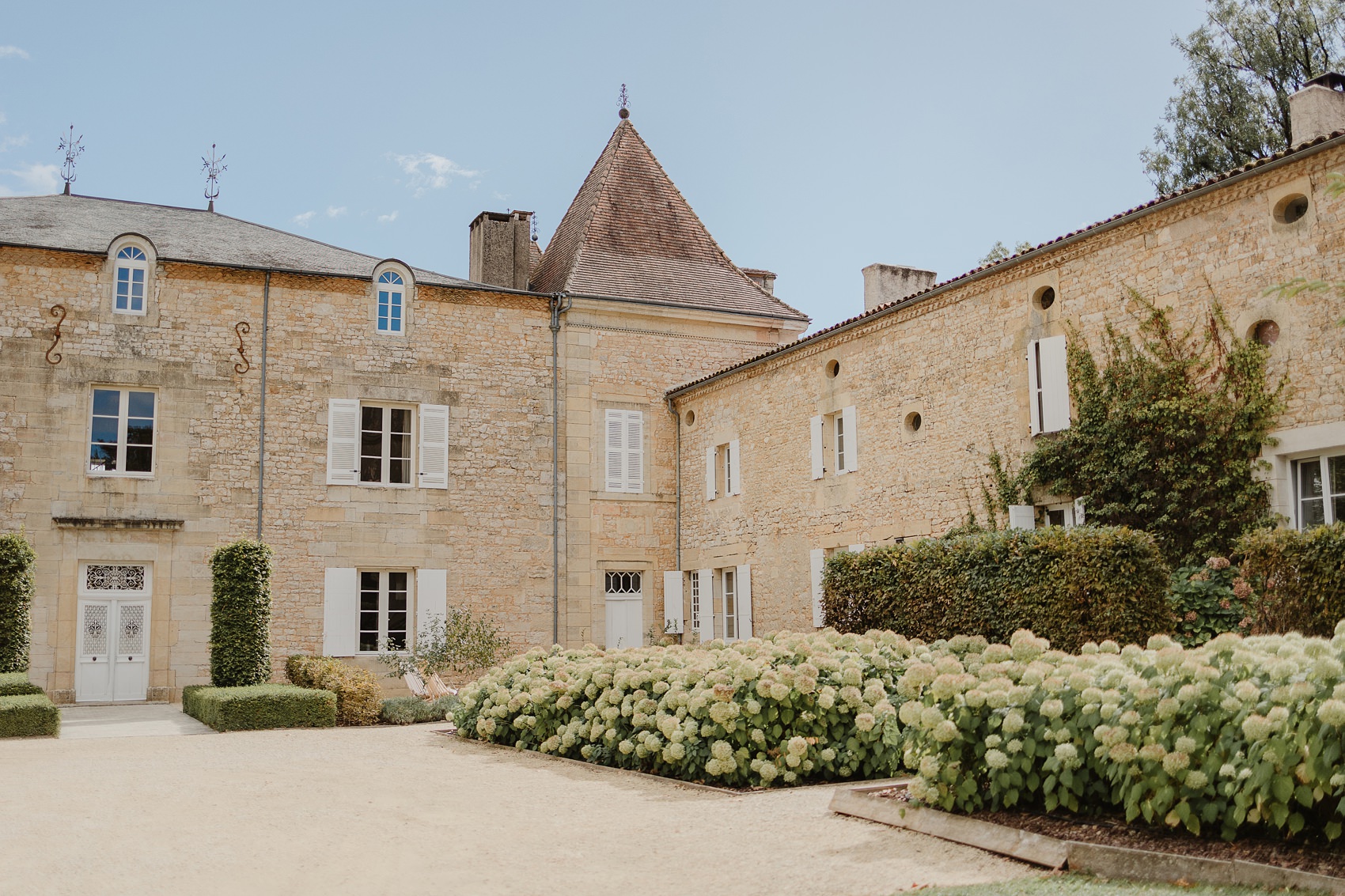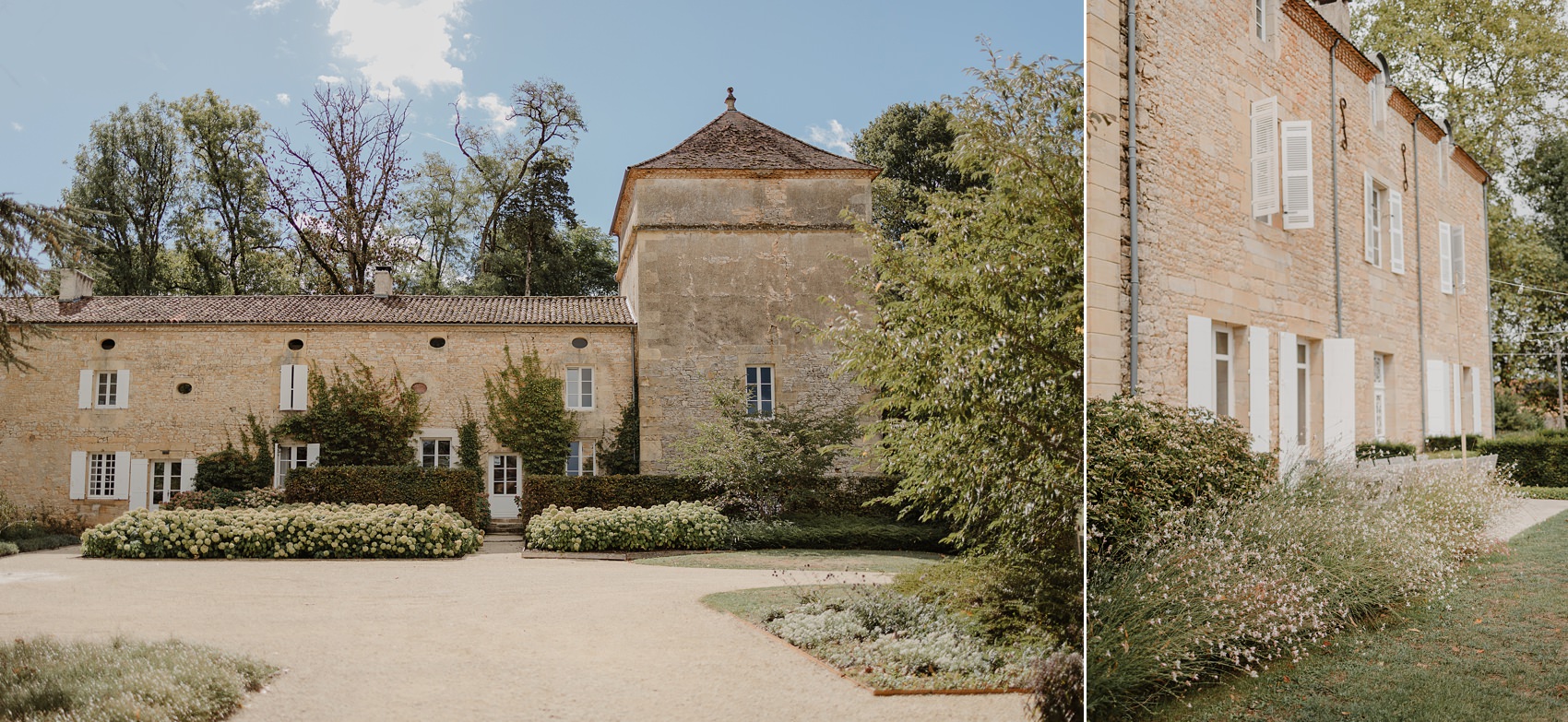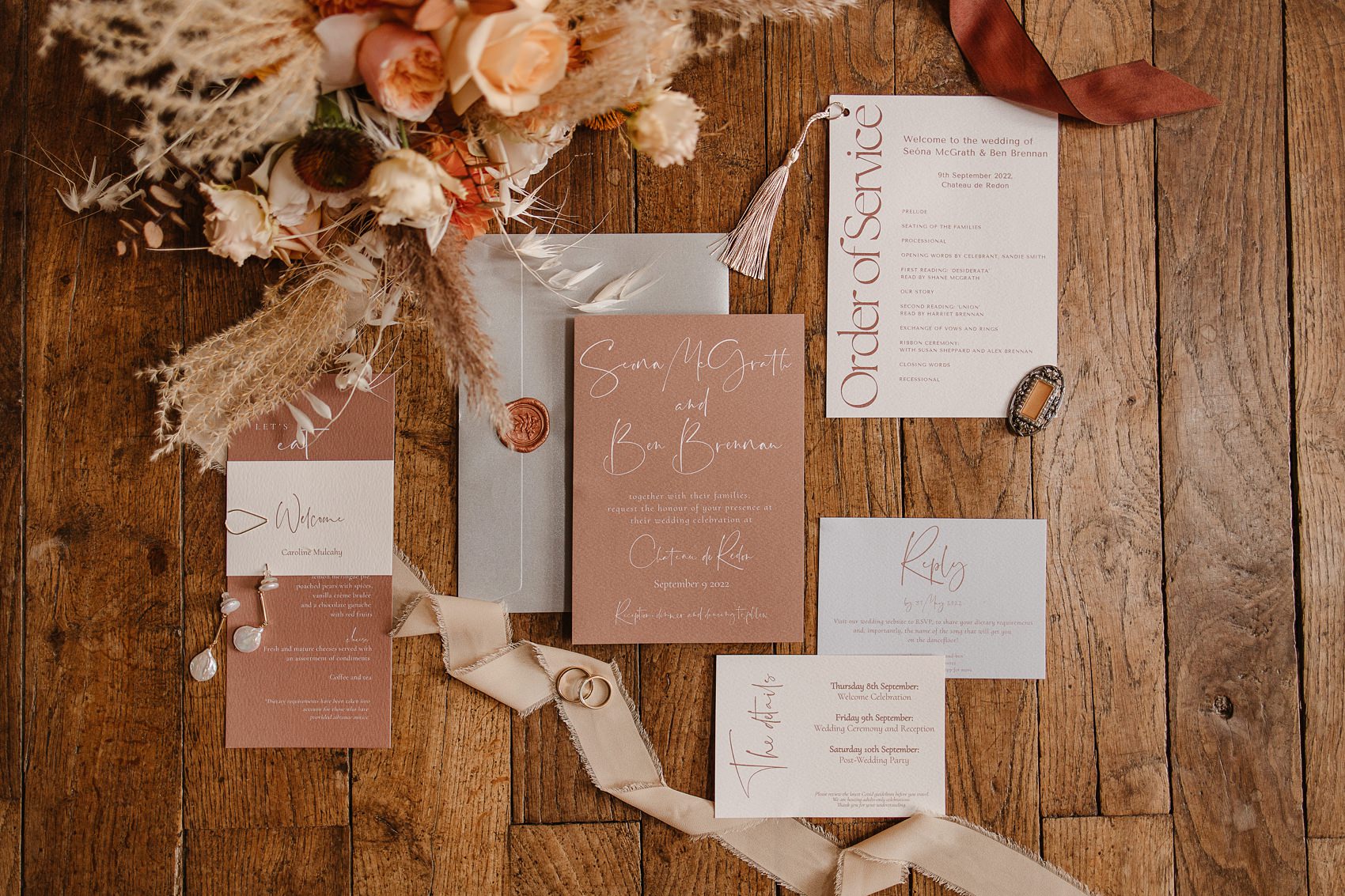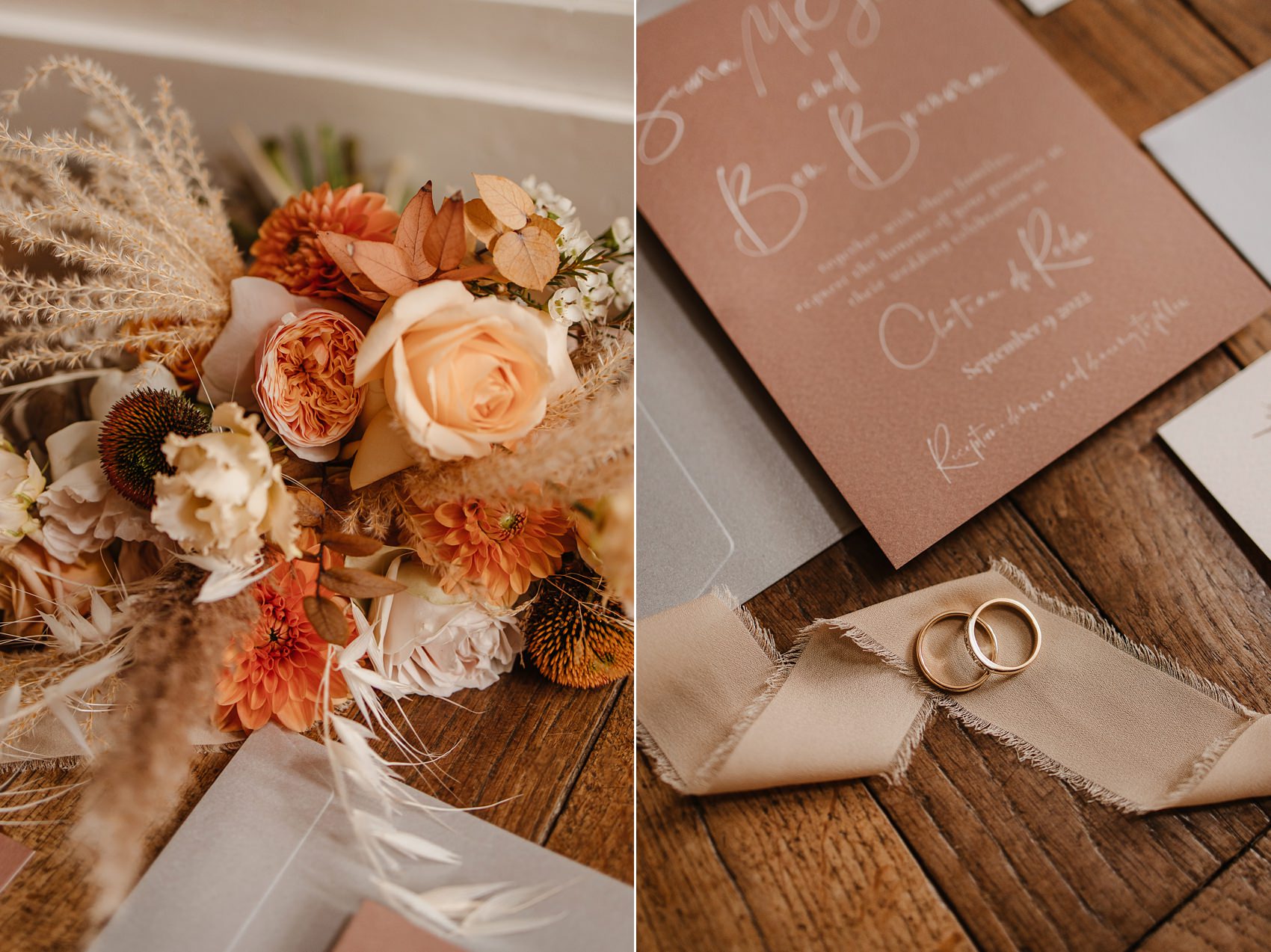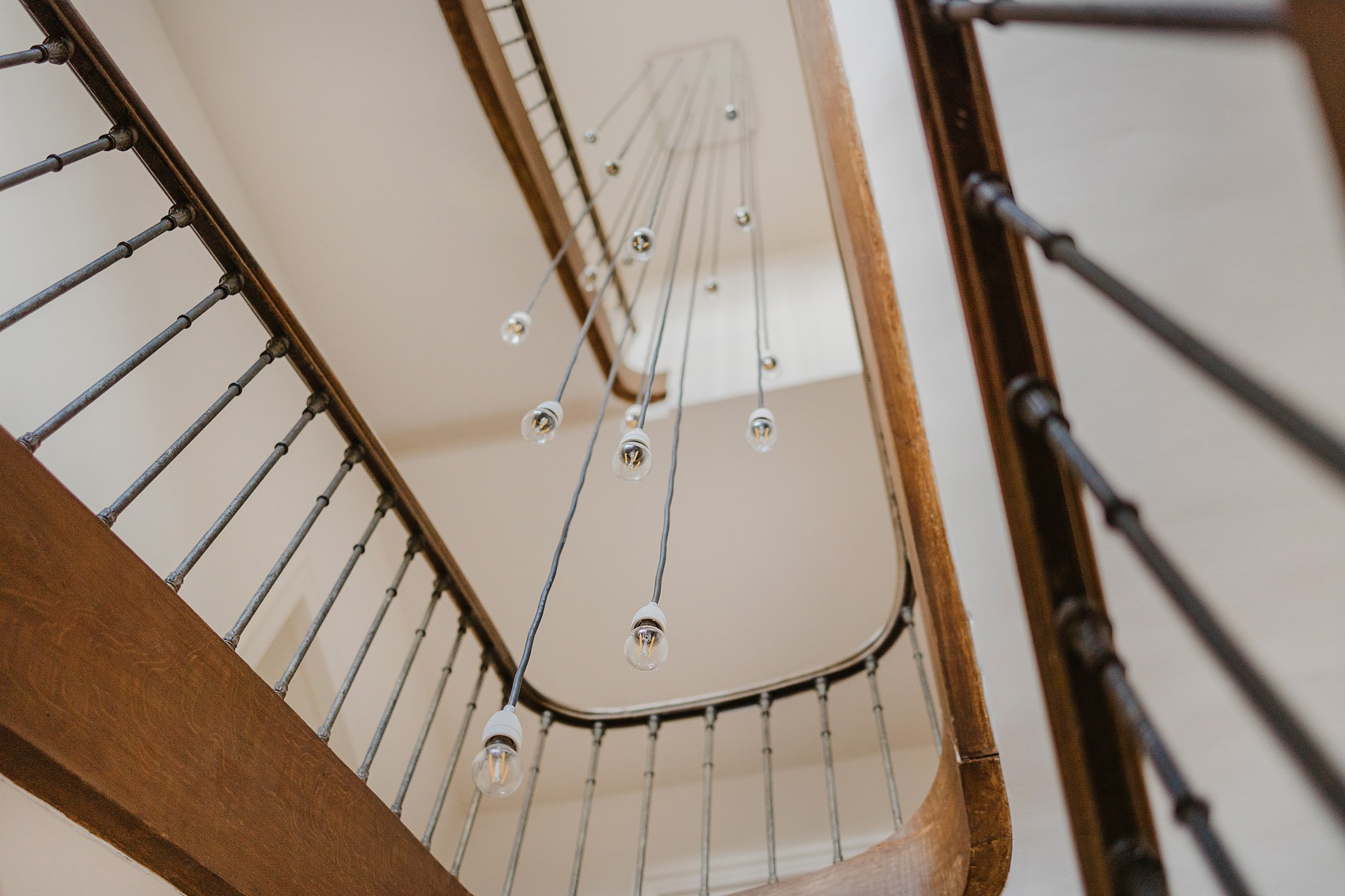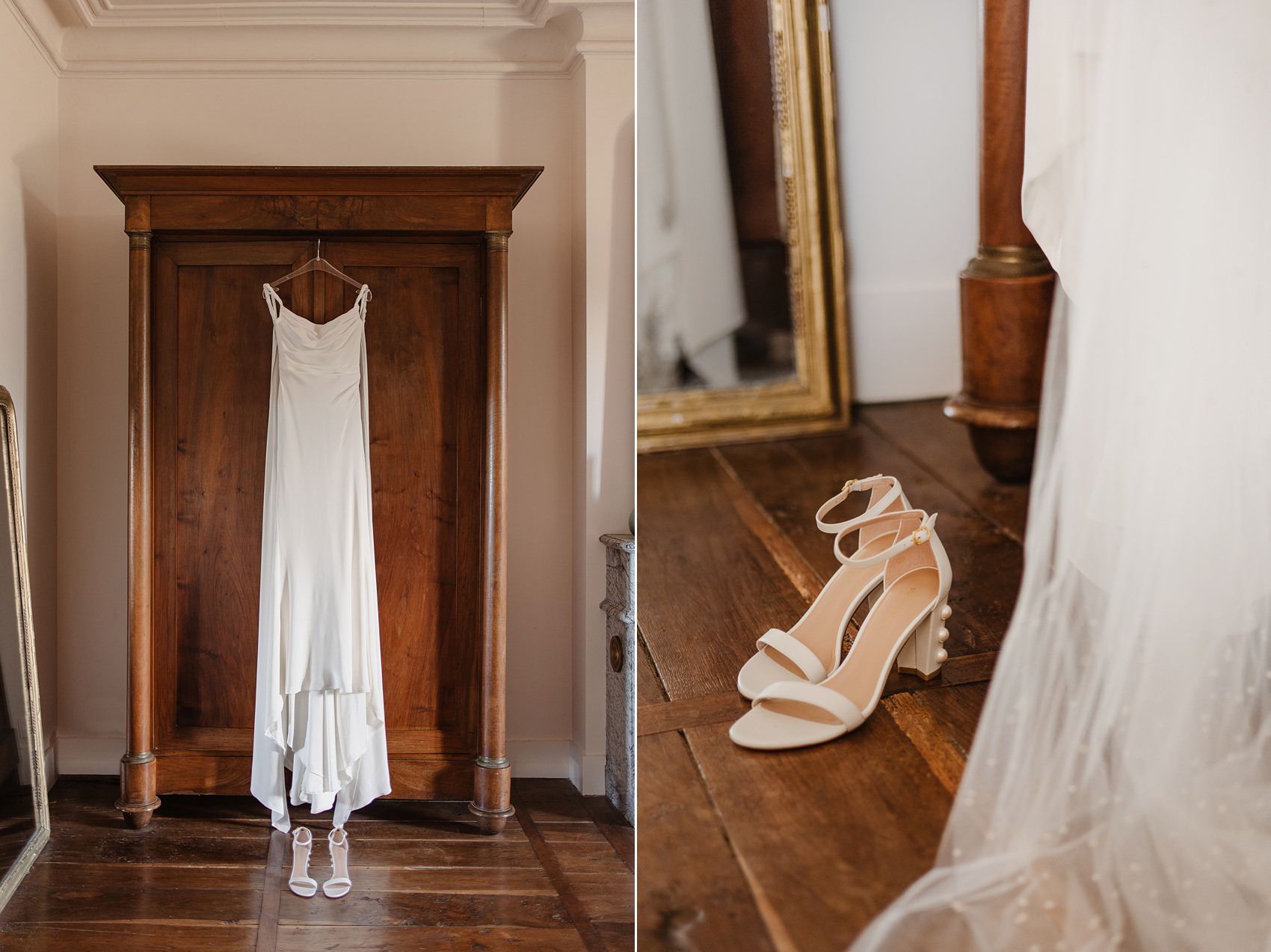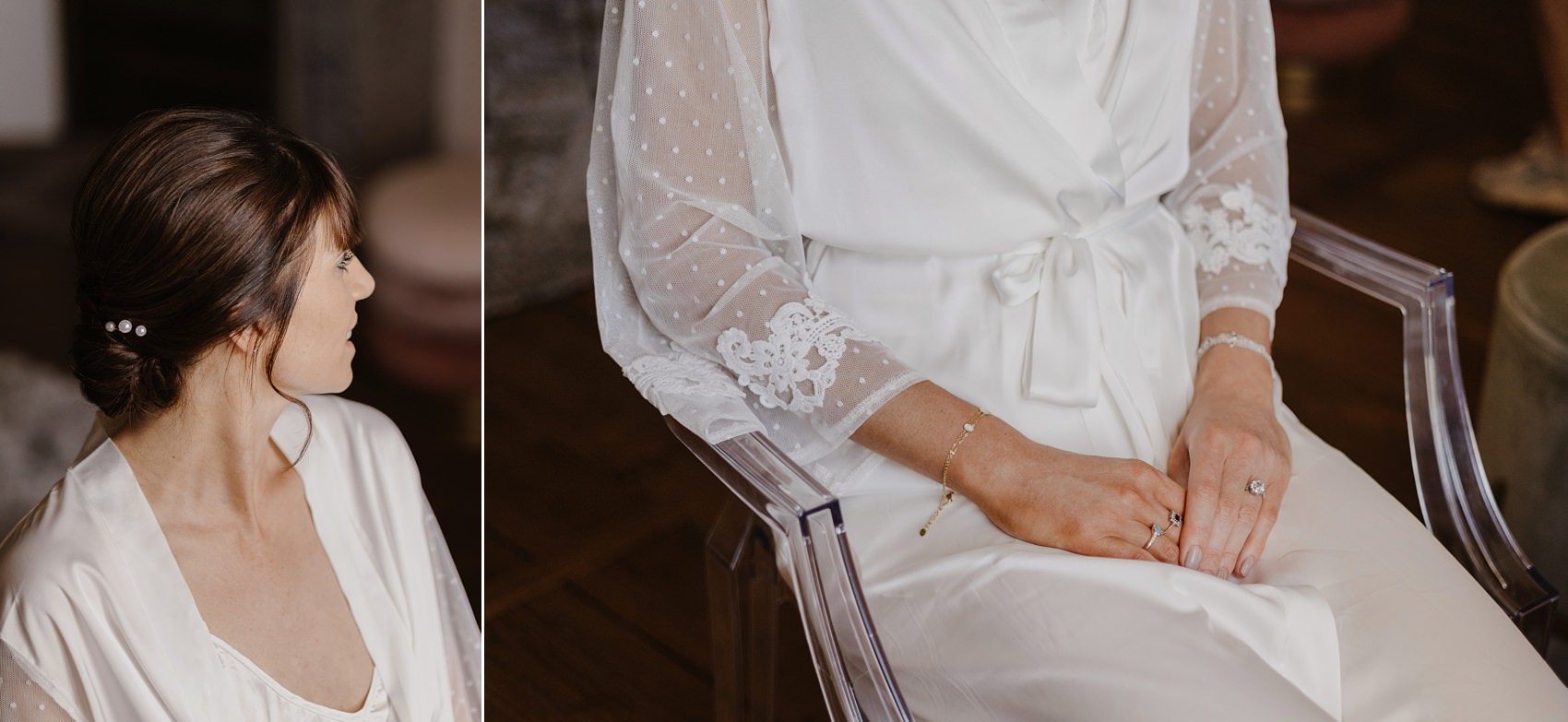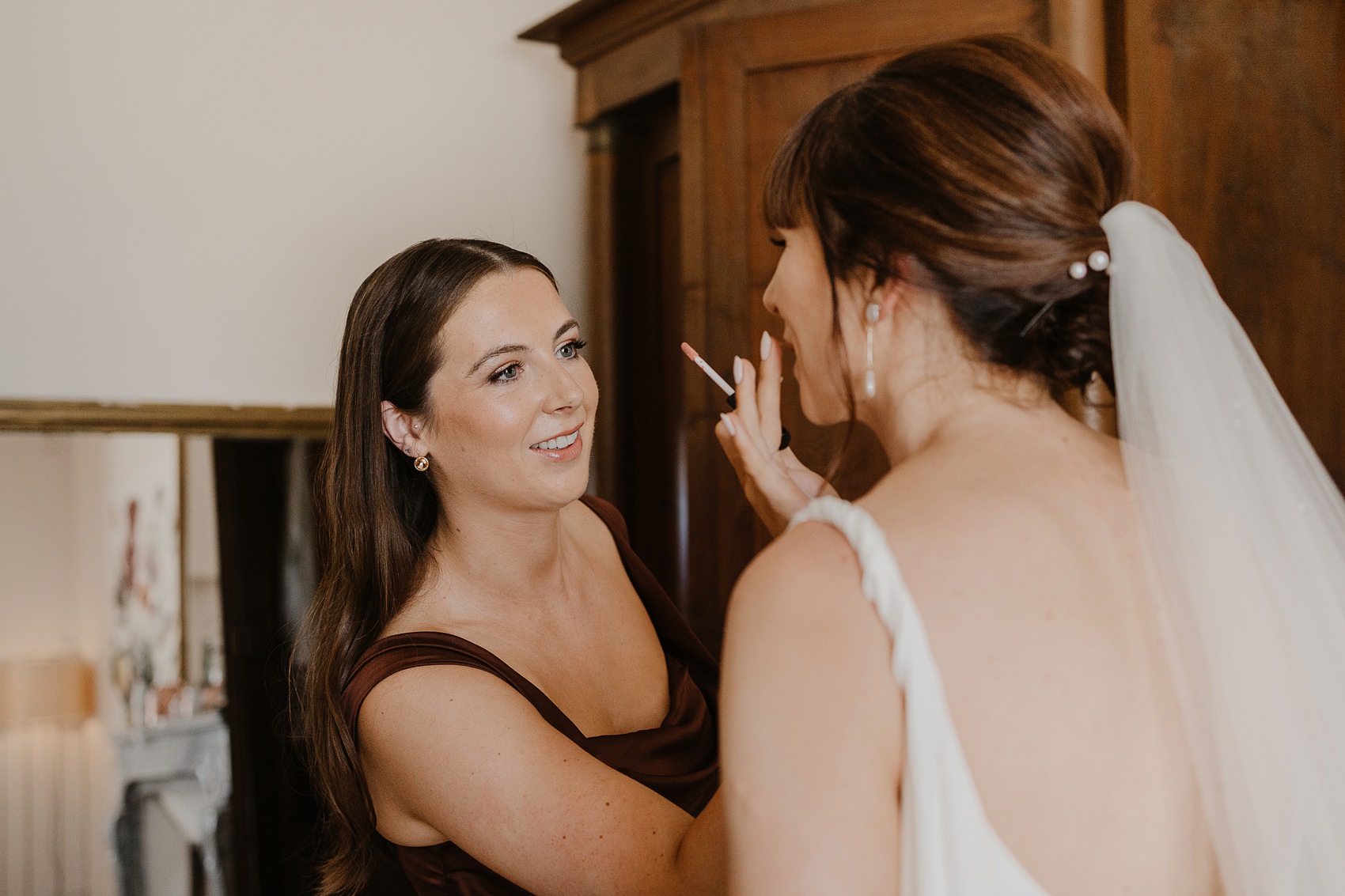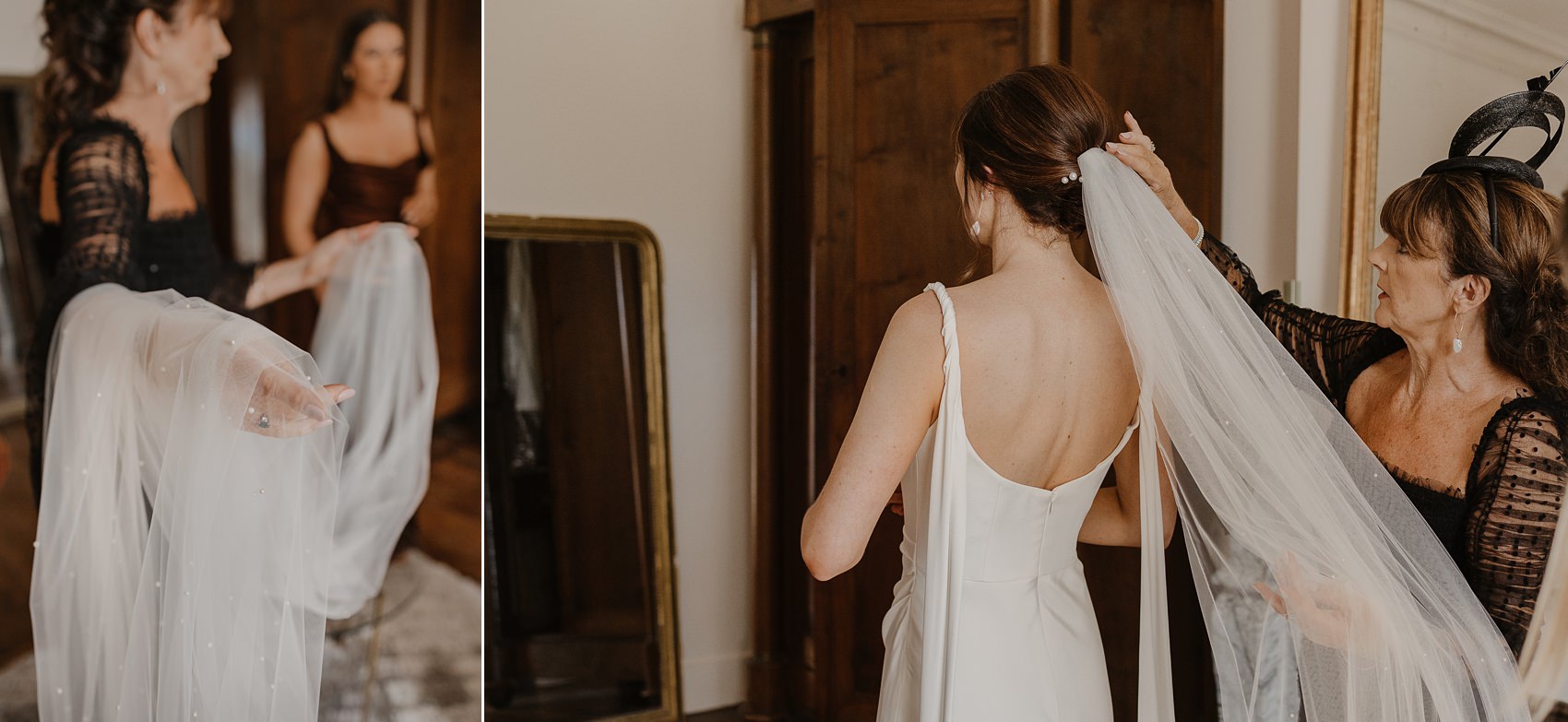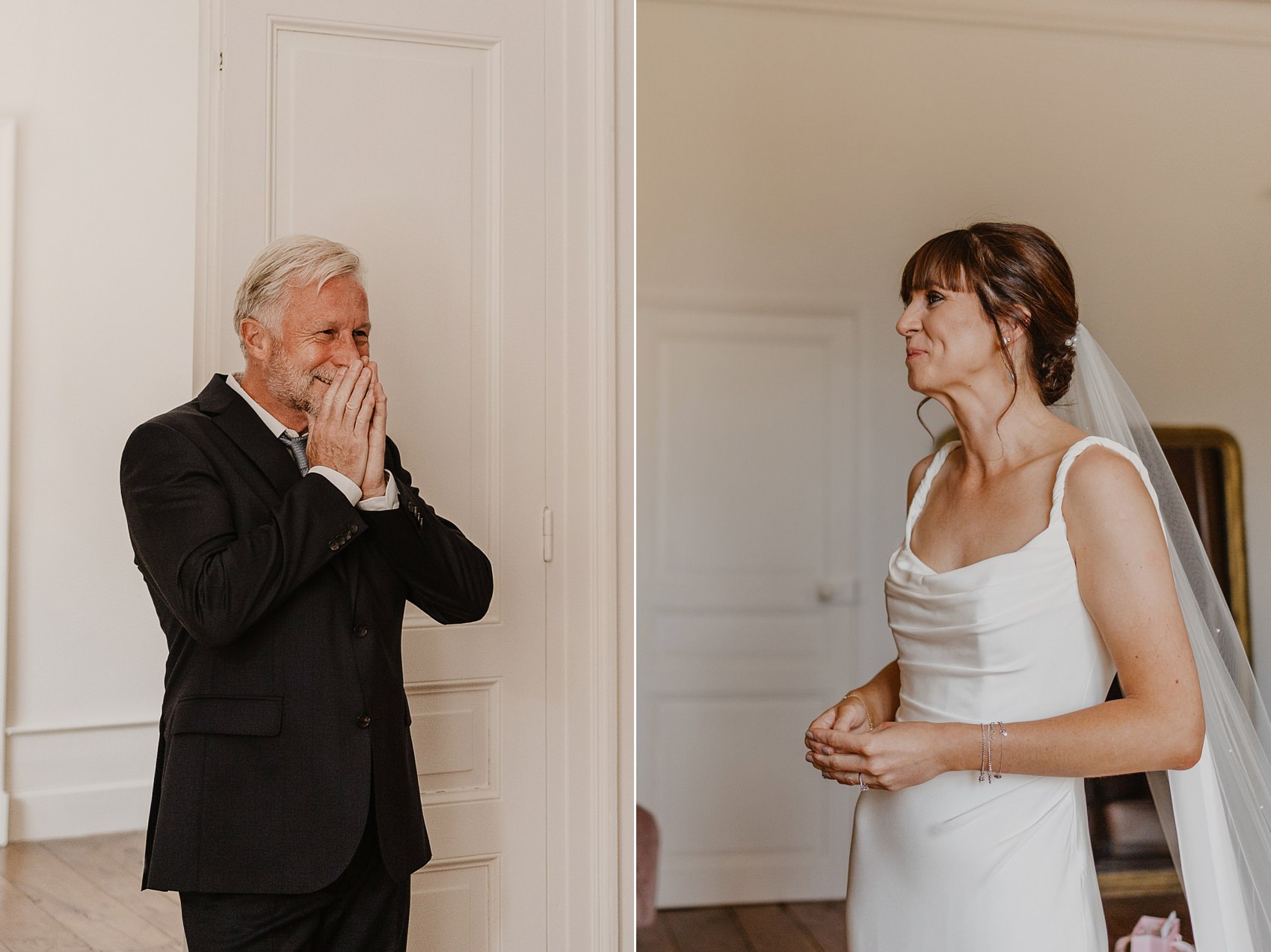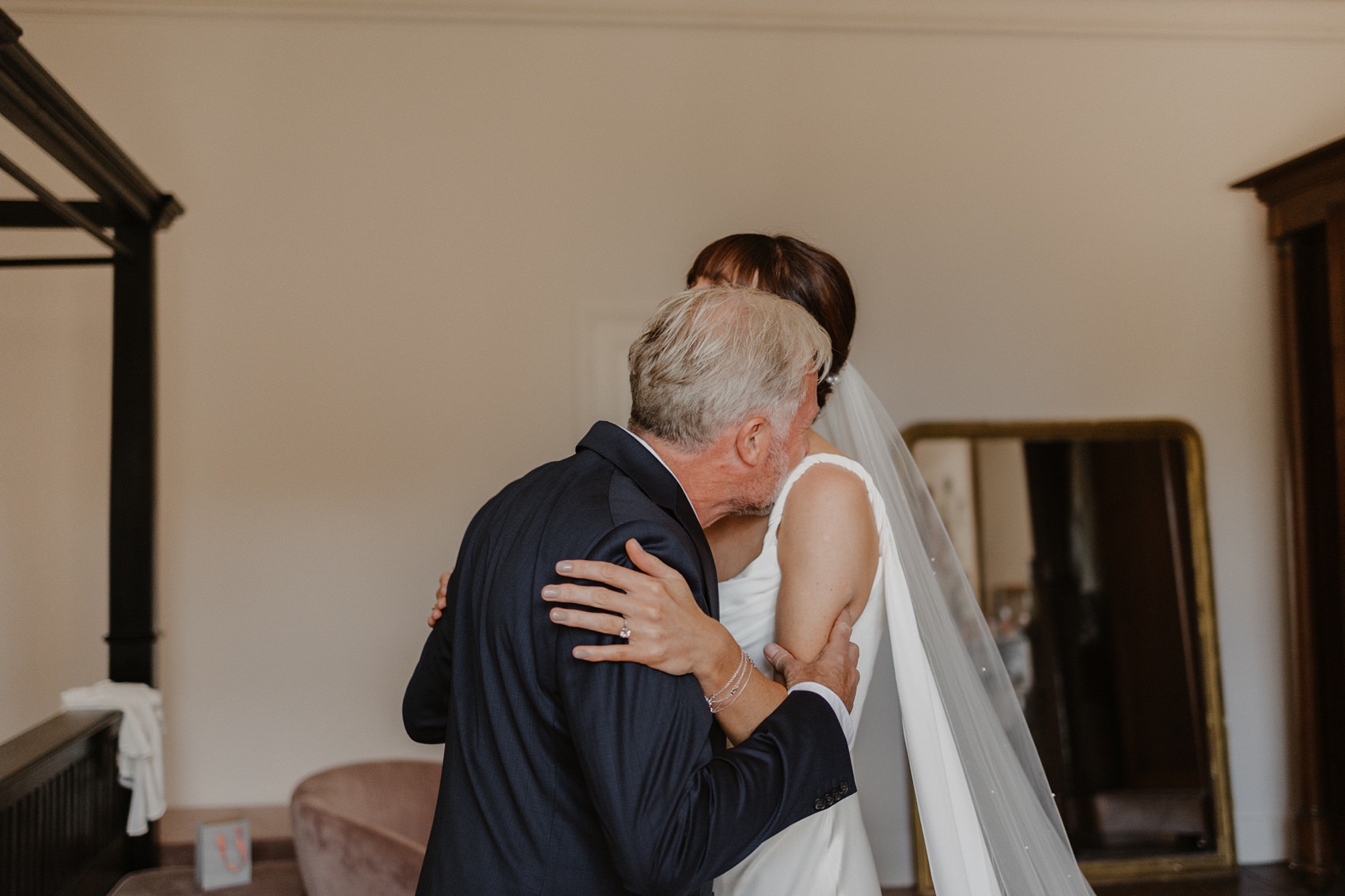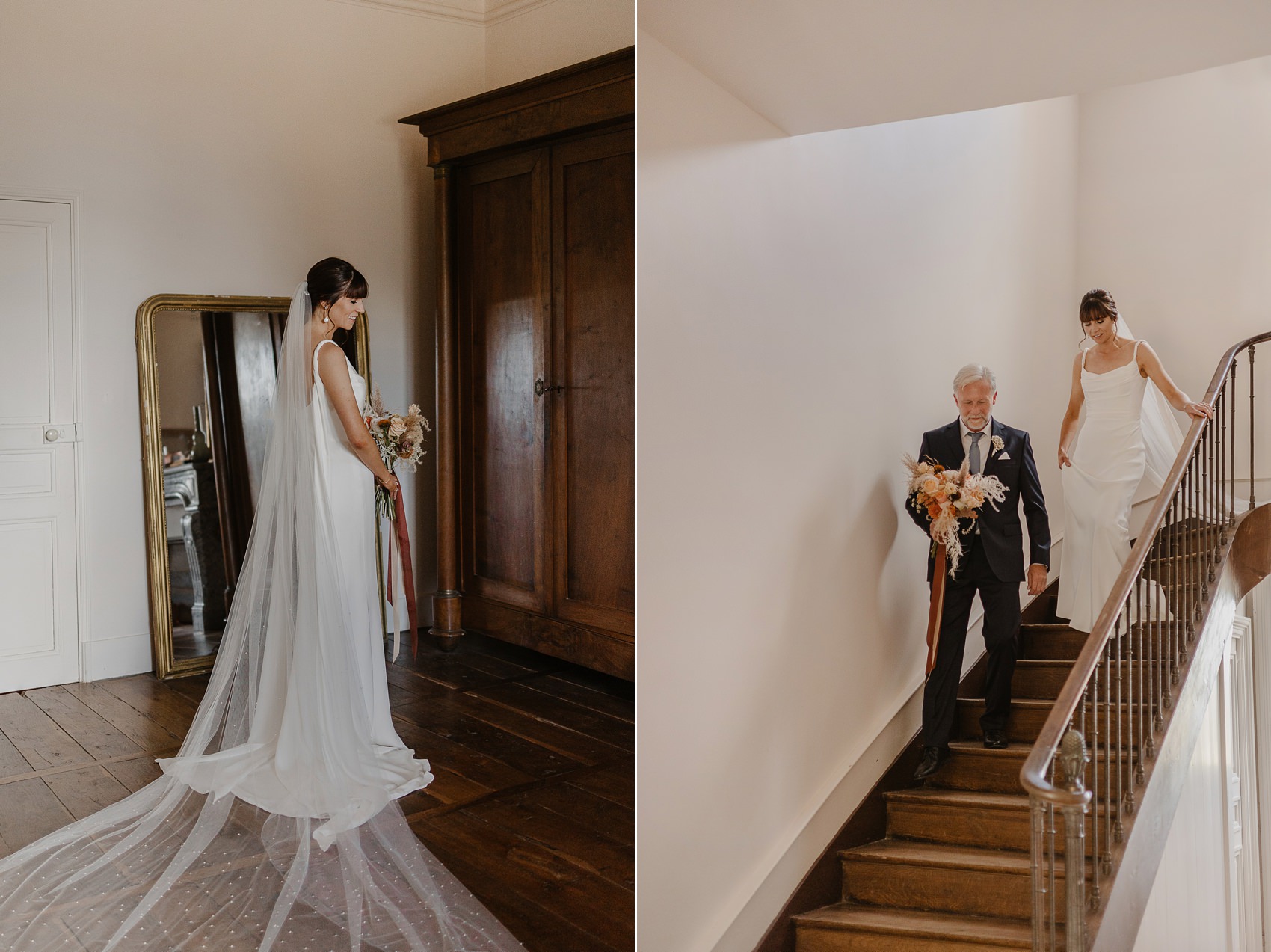 WHAT INSPIRED YOUR WEDDING AESTHETIC?
Seóna: « We both love the month of September when there is still some warmth but also some crispness in the air and we were so excited to get married around that time of year. The autumn season really inspired our aesthetic!
From the outset, we had a very clear aesthetic and wanted a natural but not rustic feel with some classic, crisp touches and we also wanted everything to feel very consistent and considered.
We chose a muted autumnal colour palette, focusing on earthy warm tones, so this was brought through every element – from the invitations and the signage around the venue, to the flowers and bridal party outfits. This feeling and vibe extended to the type of music we chose and to the cocktail team we hired!
We designed and created everything ourselves and traveled over with everything we needed so it was a real labour of love. This even included designing our table plan, sourcing a huge sheet of calico linen to print it on, spray painting a frame arch and hand creating silk flowers and bringing it over to assemble in a slight panic on the day! »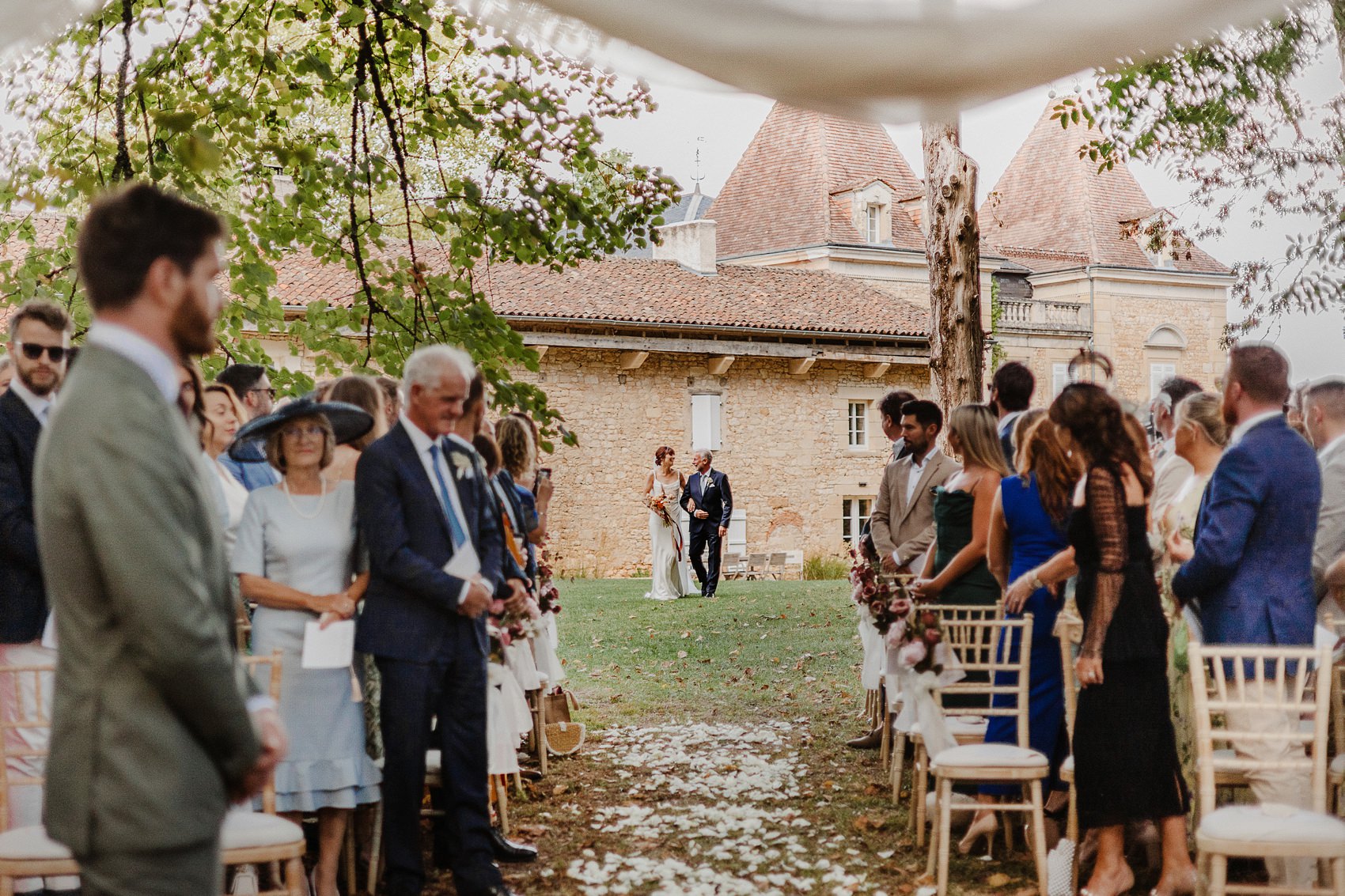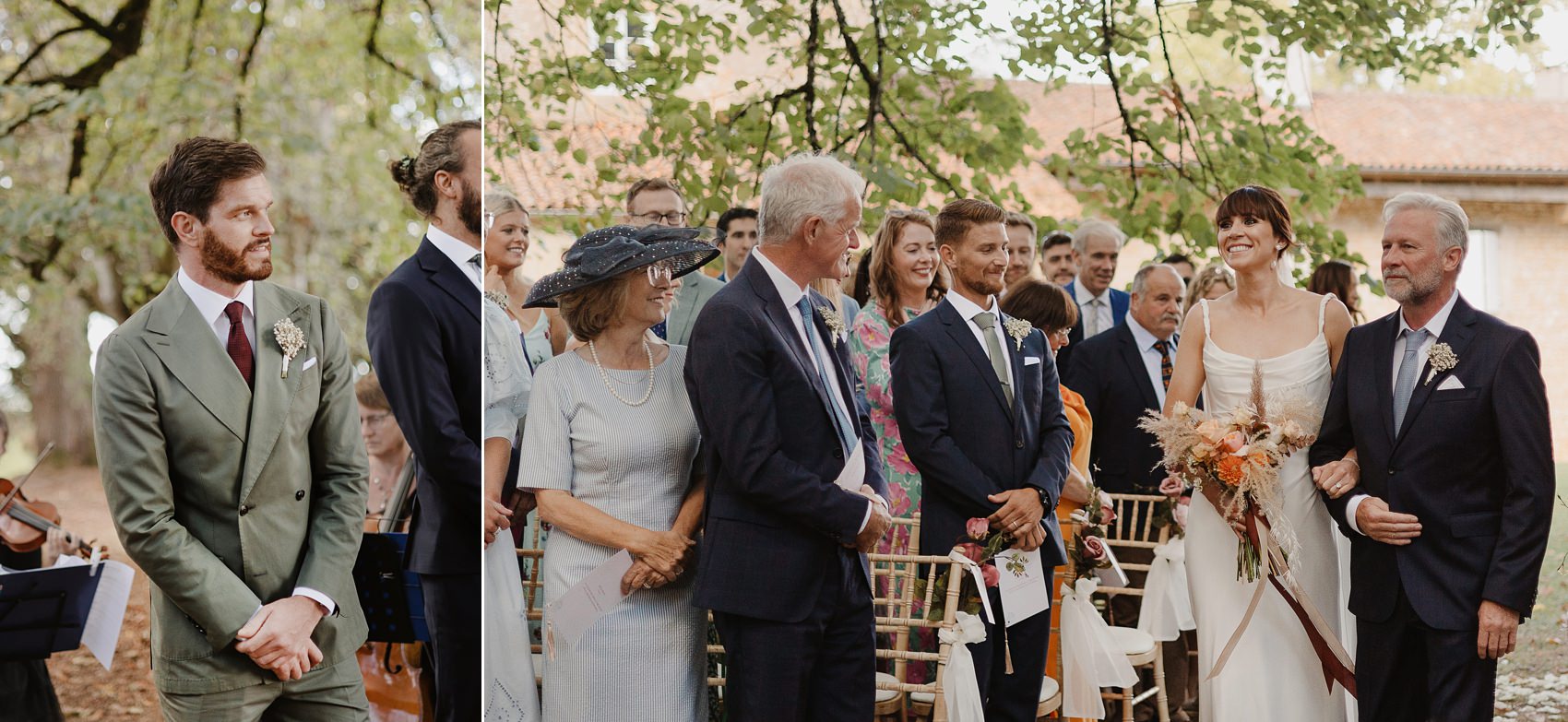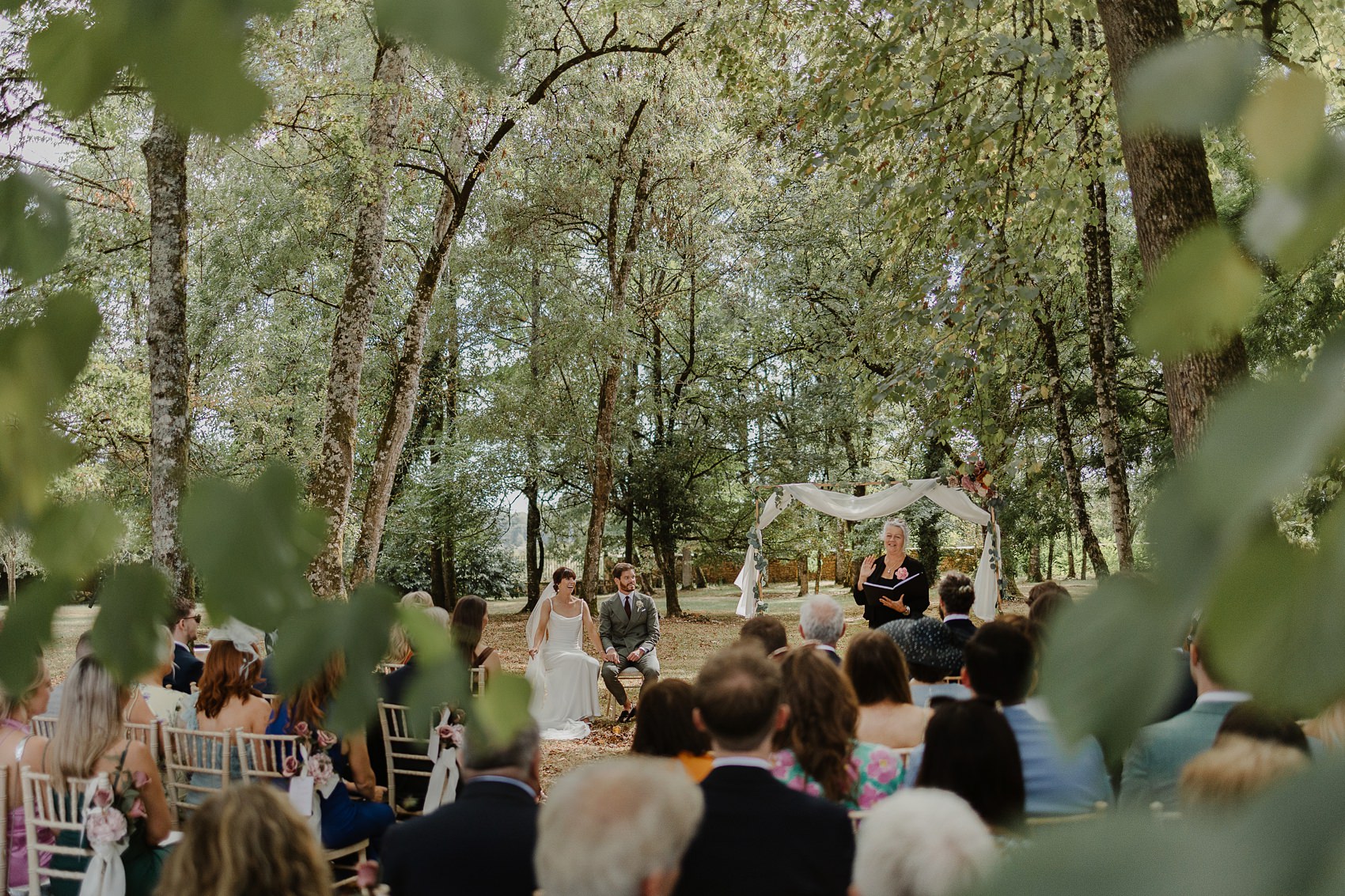 WHAT MADE CHATEAU DE REDON « THE » VENUE?
Seóna: « We spent a huge amount of time researching to find the perfect venue and ruled many, many options out. Some were too big, some were too small, and some didn't feel right or match the aesthetic or vibe we wanted to achieve – a bit like Goldilocks! We also needed to find somewhere that would be relatively easy for our guests to get to and that had good accommodation nearby and ideally in a nice town so they could enjoy visiting somewhere new on their holiday. Chateau de Redon was one of the first places we found online and we loved it instantly.
Ben: « After an initial call with Anita from Chateau de Redon, we knew it was the one. Anita was so personable, kind, and patient. We just clicked! We flew to France to visit Chateau de Redon in September 2021 with Seóna's parents, one year before we wanted to get married, and we were so delighted when we got there. »
Seóna: « The venue was in the most gorgeous countryside setting with trees, lush fields, and a peacefulness surrounded the Chateau de Redon. Once inside, the décor was like something from a magazine – the Chateau de Redon was beautifully restored with the most incredible interiors and every detail had been considered. It was pouring rain when we go there but even still you could see how incredibly beautiful it was. We also felt so reassured that Anita would be the perfect partner to help us bring our wedding dreams to life – which she did ten times over.
We also visited one of the local towns, Montignac, and we knew it would be a great location for our guests to base themselves, with plenty of great accommodation as well as nice places to eat, drink and relax. »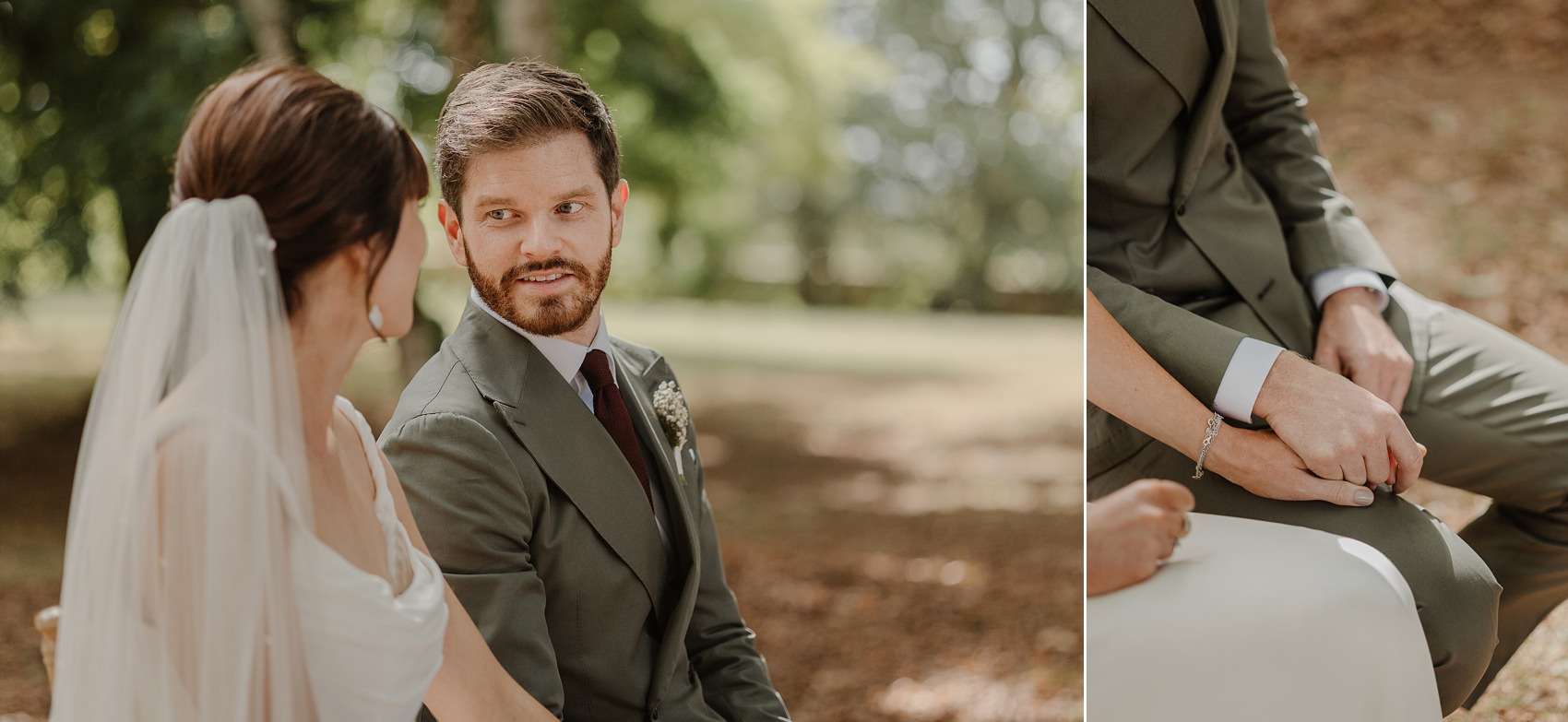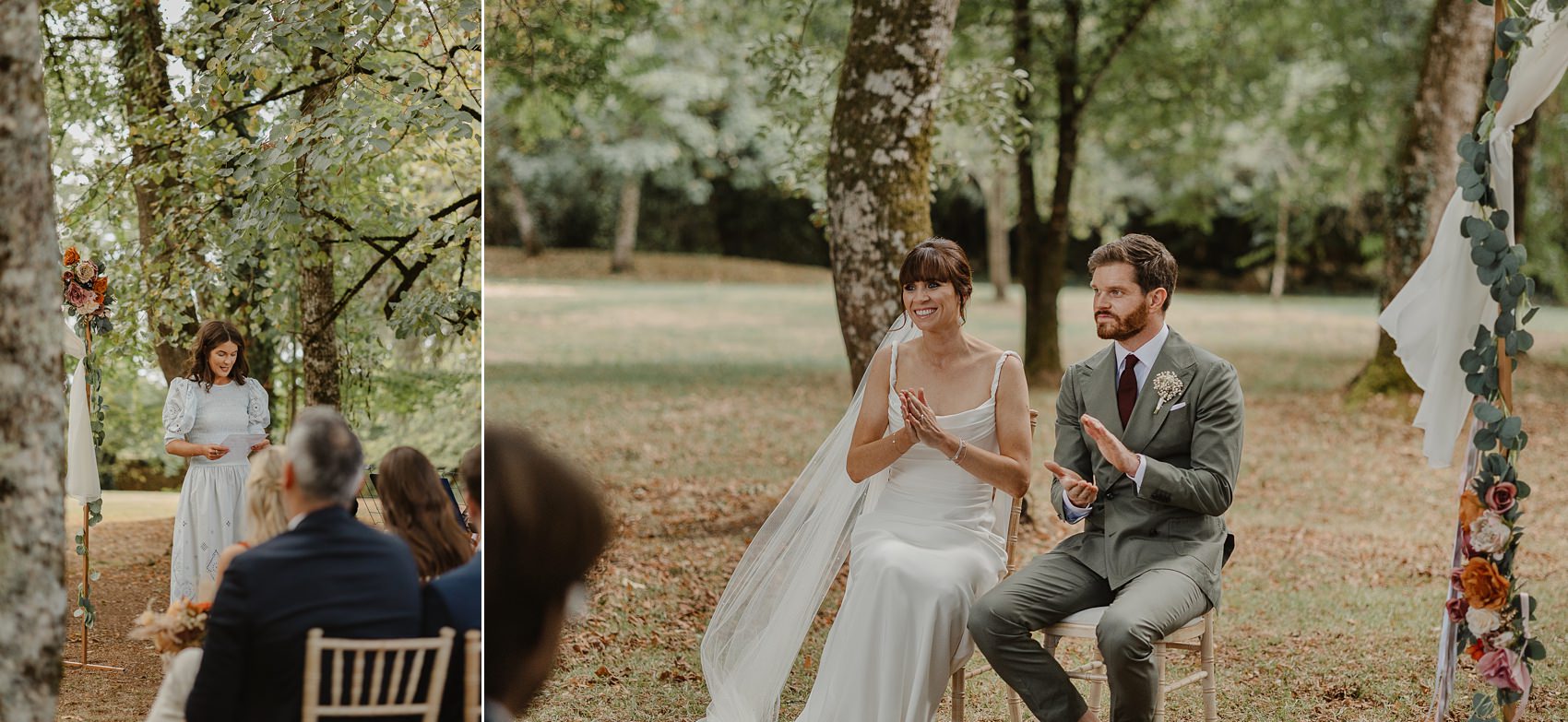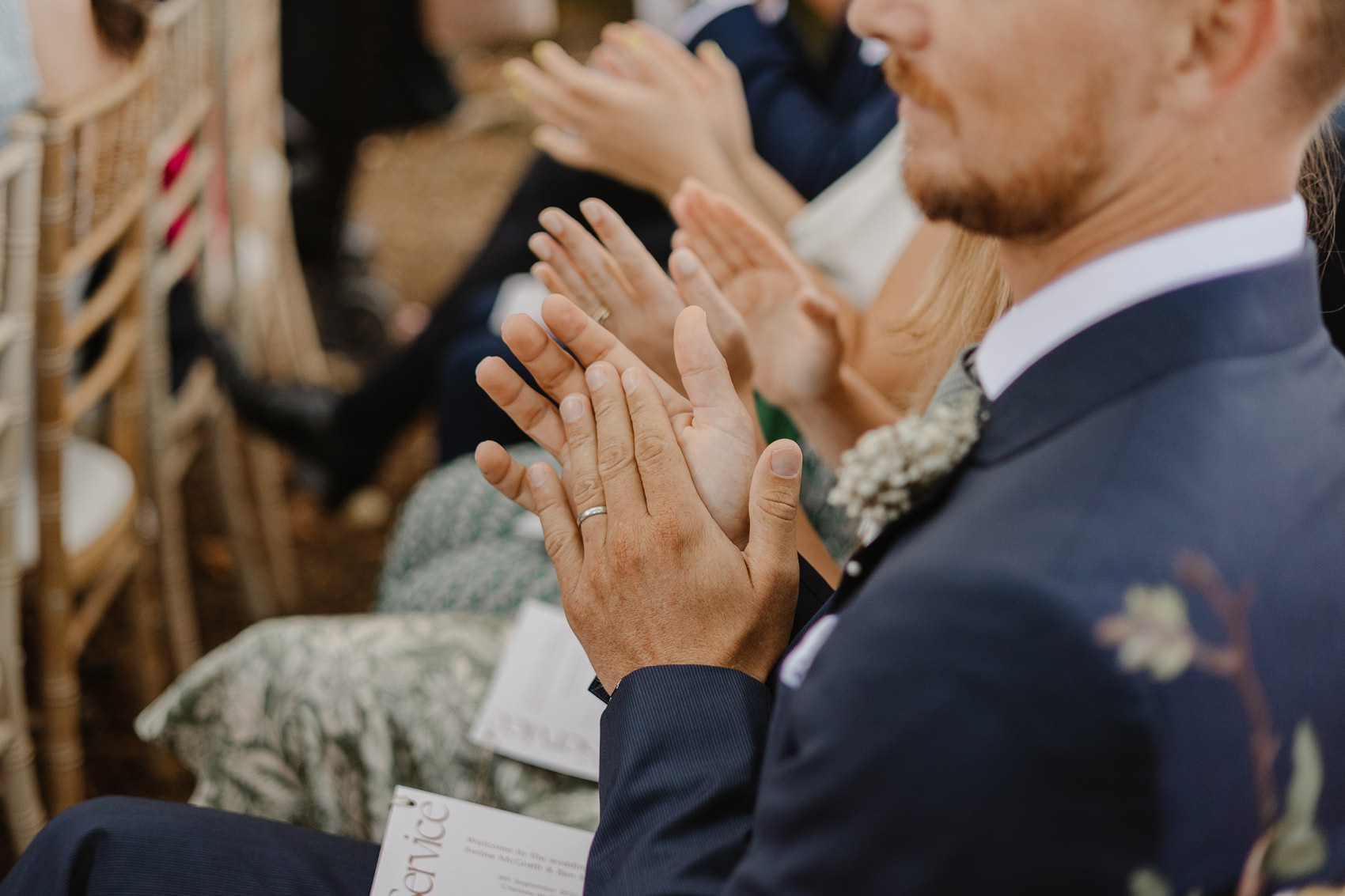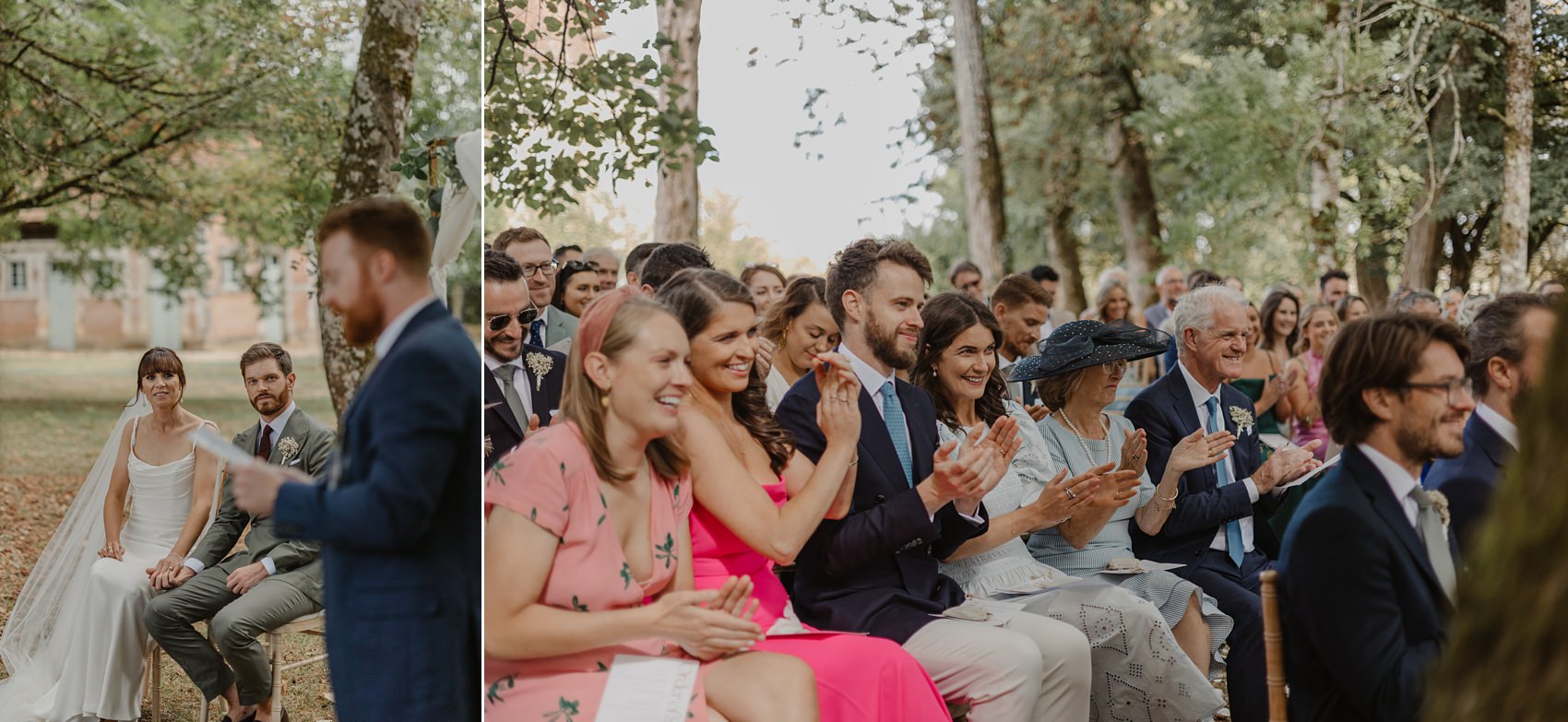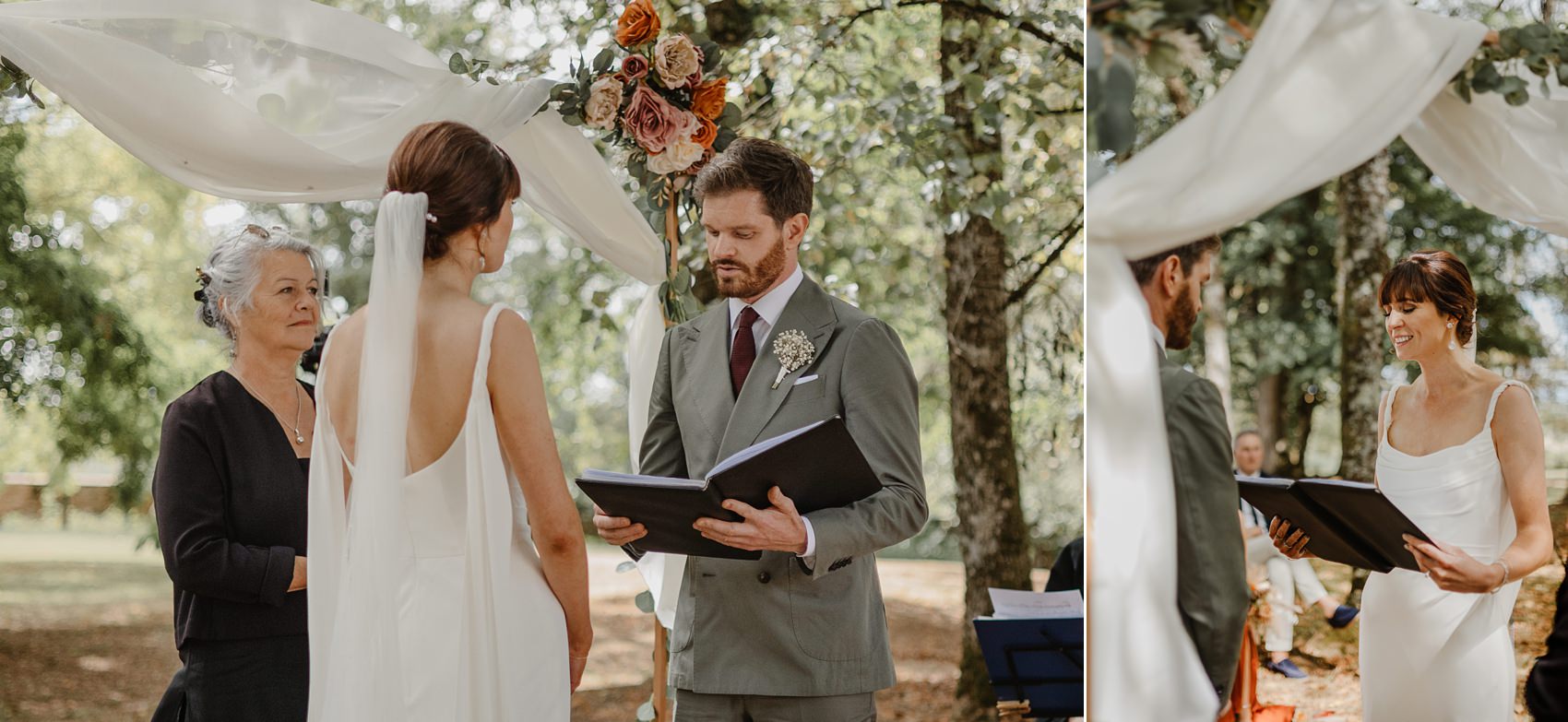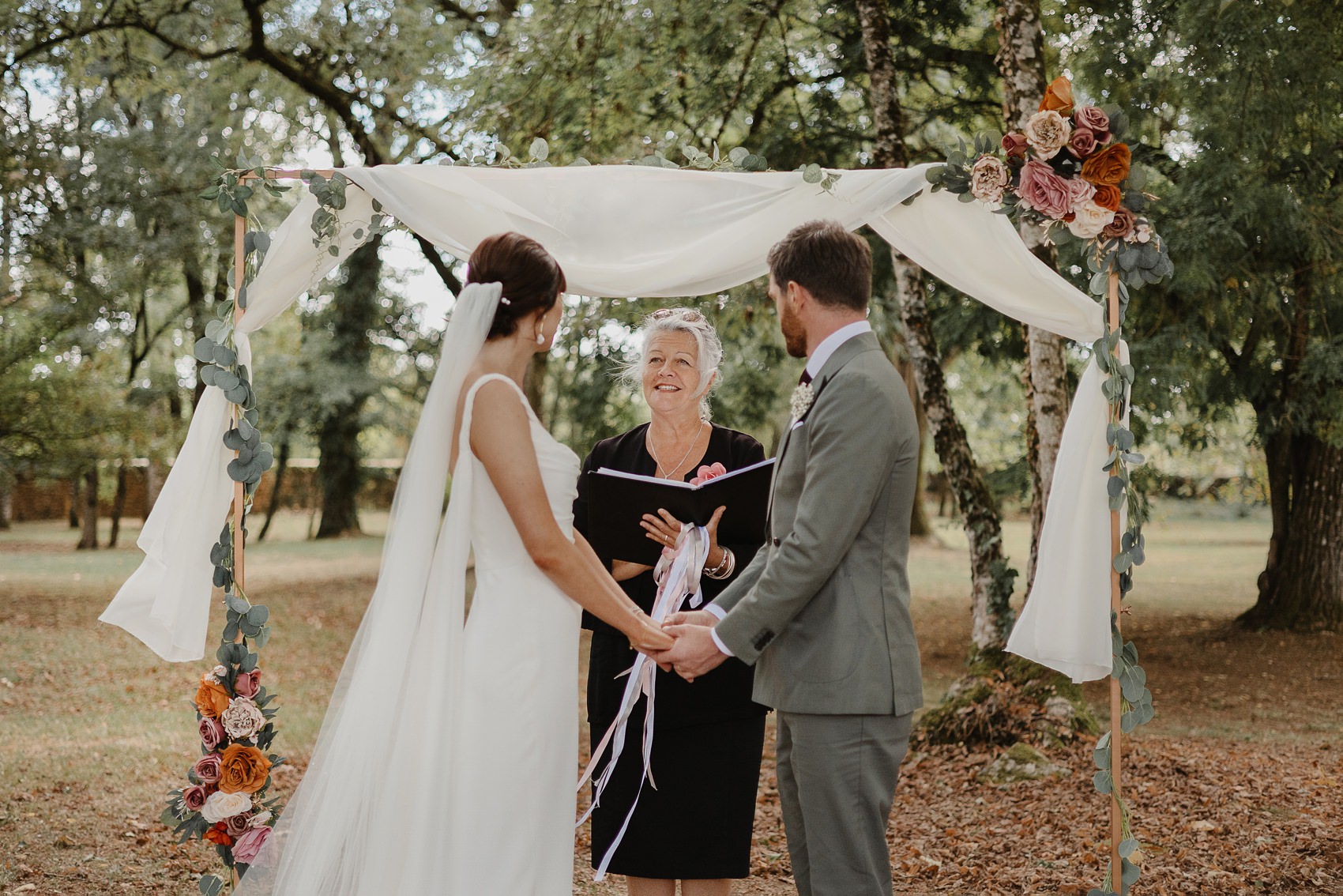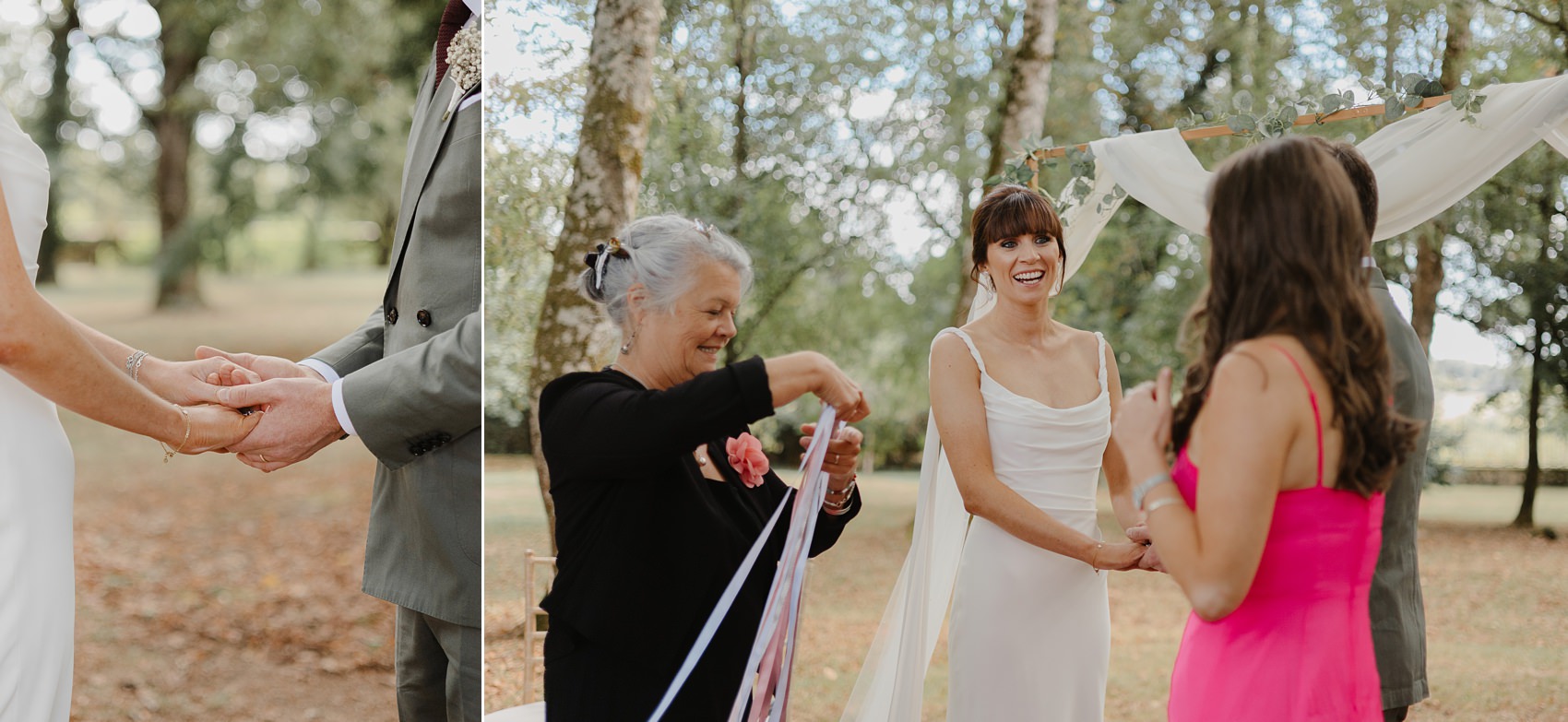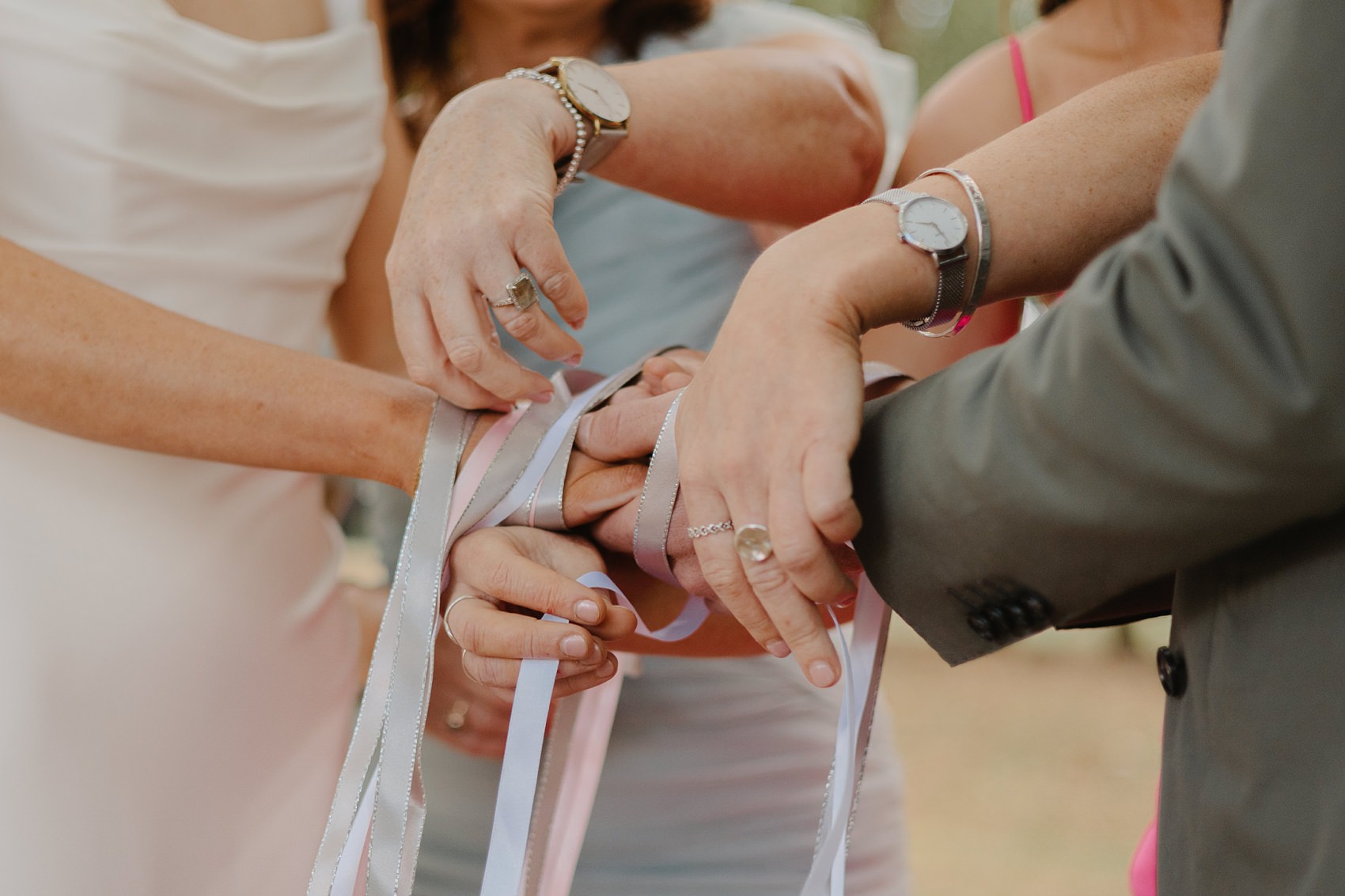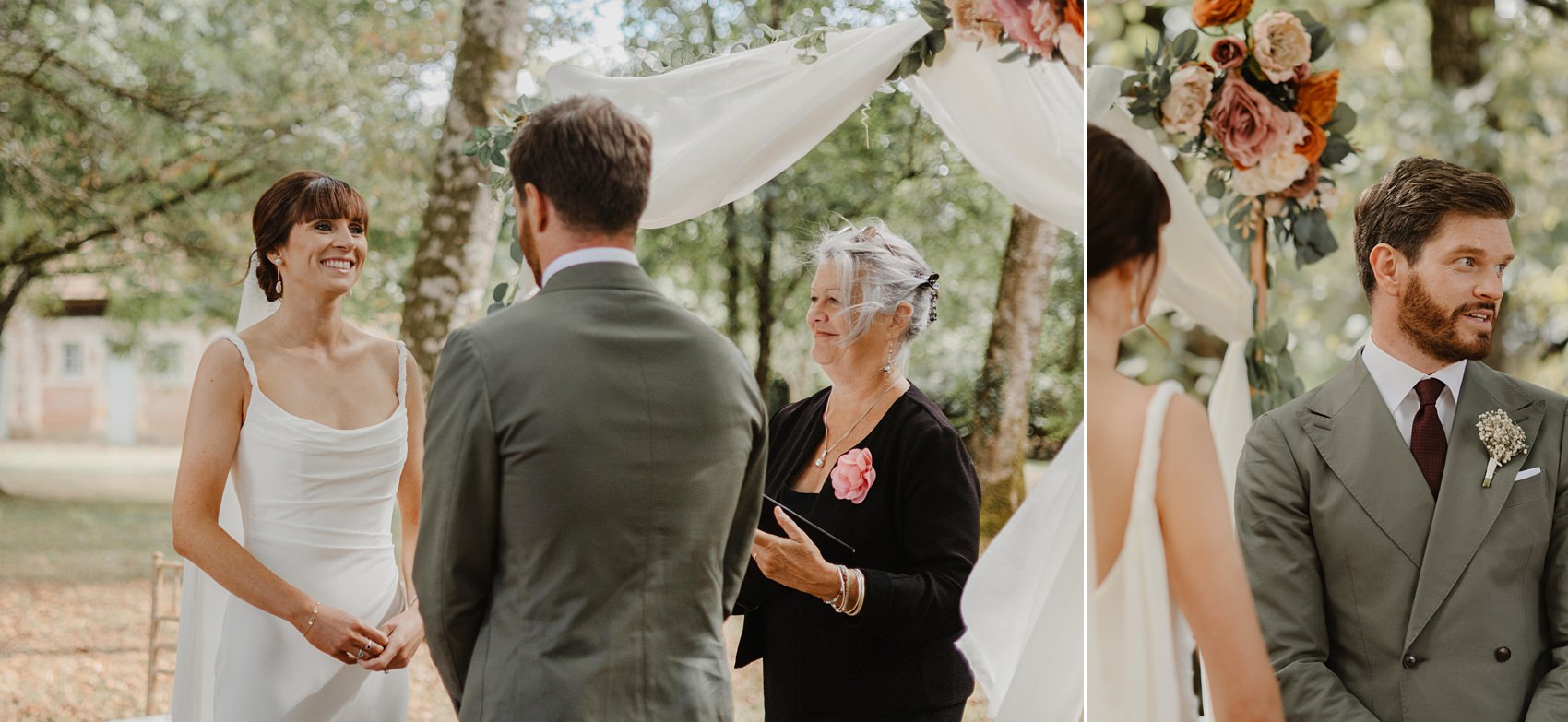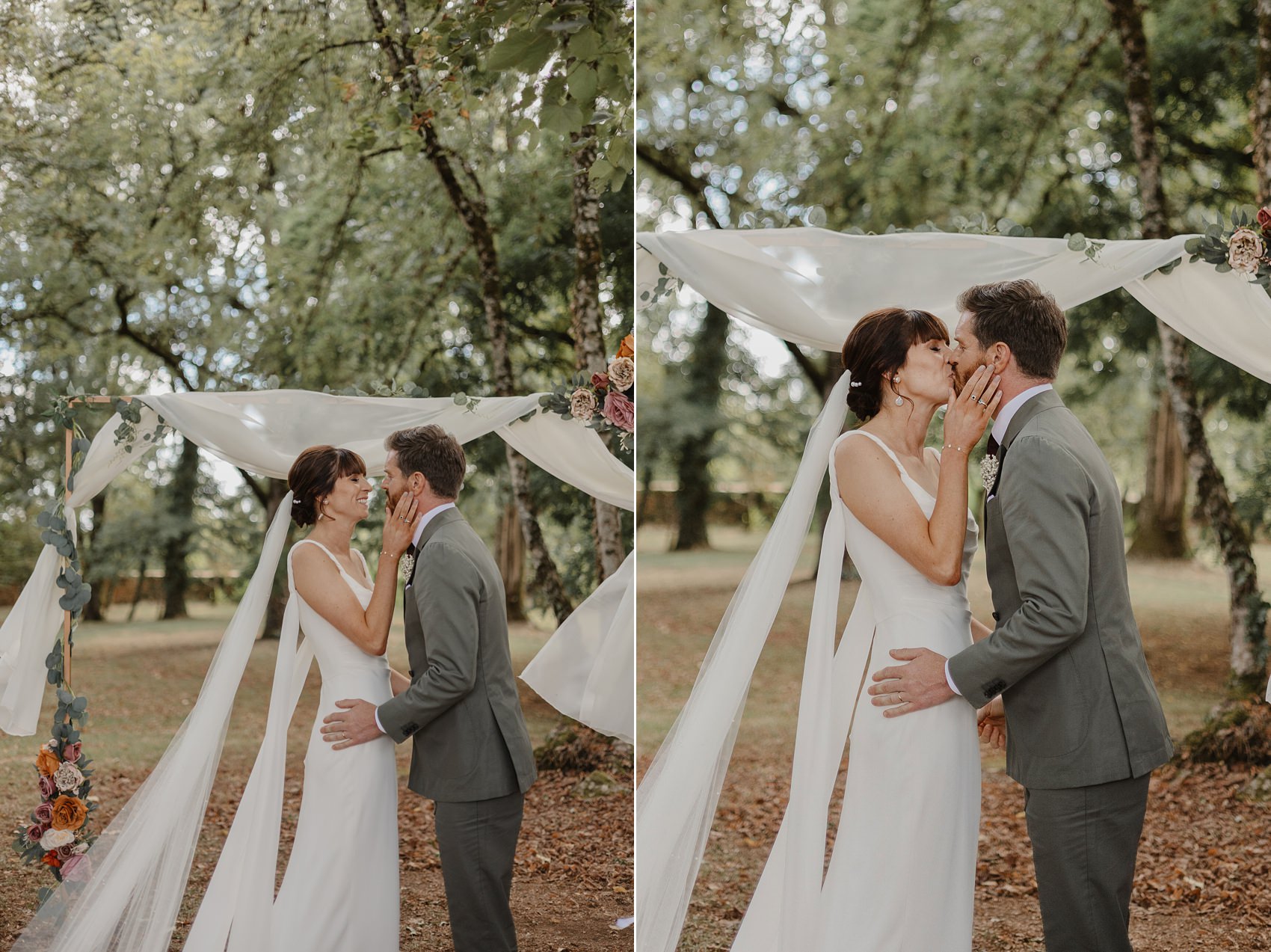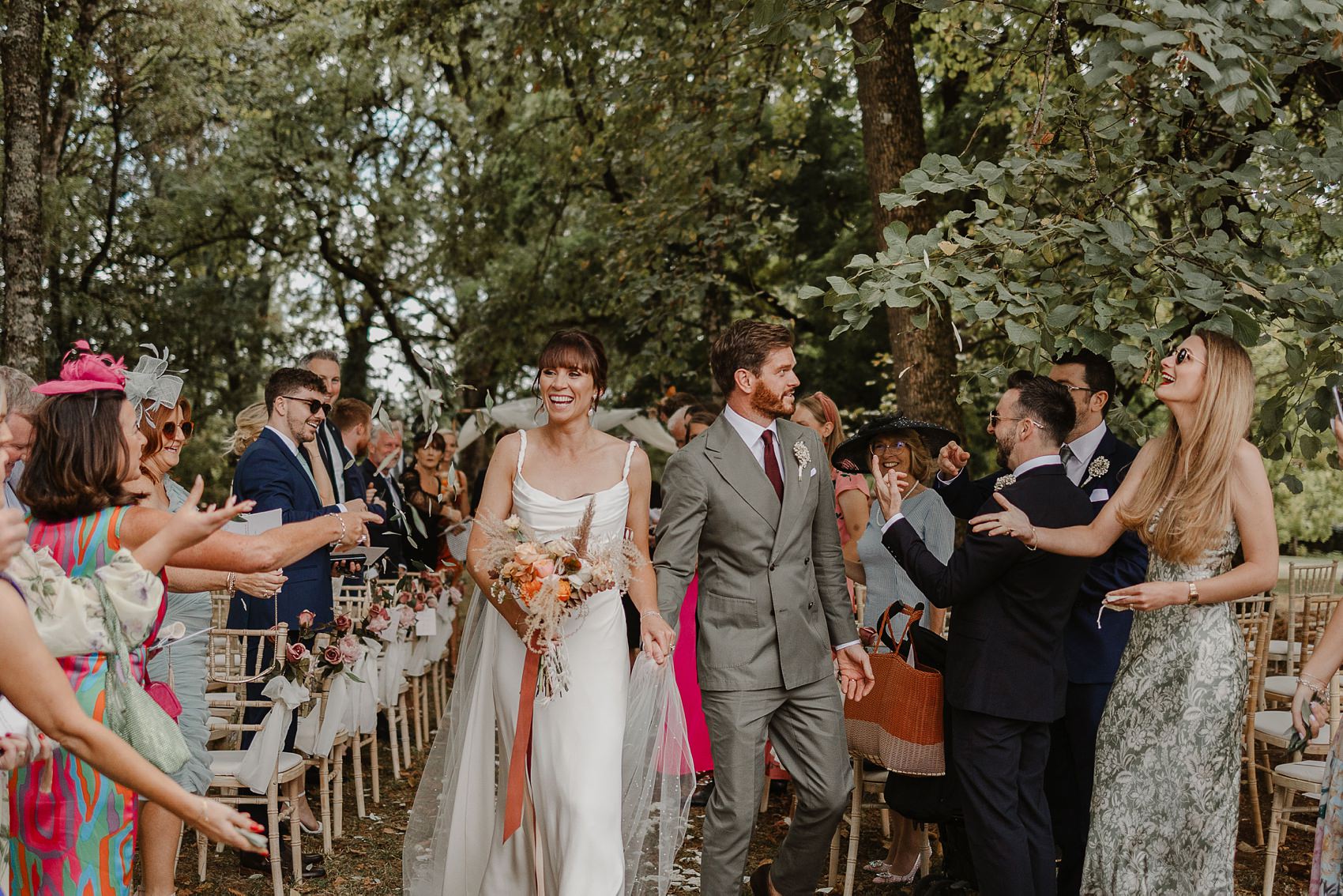 WHY DID YOU GET MARRIED IN FRANCE?
Seóna: « We did think about getting married at home in Ireland but our hearts were set on going abroad. France is somewhere we've both spent time with our families, and together, and we love it so much and wanted to create a special trip with our loved ones.
As our guests were traveling so far to celebrate with us, it was also super important for us to make sure that we helped make it as easy and as fun as possible for them. We tried to do as much research as possible in advance into flights, hotels, etc, and made sure we booked a venue that was close to a town with plenty of nice accommodation options and that was easy to get to so we could arrange transfers each day. We also made sure we had lots of great food options, plenty of lovely drinks, and extra touches over the few days so that guests felt well catered for – as well as making sure we had great music so they could really let their hair down. »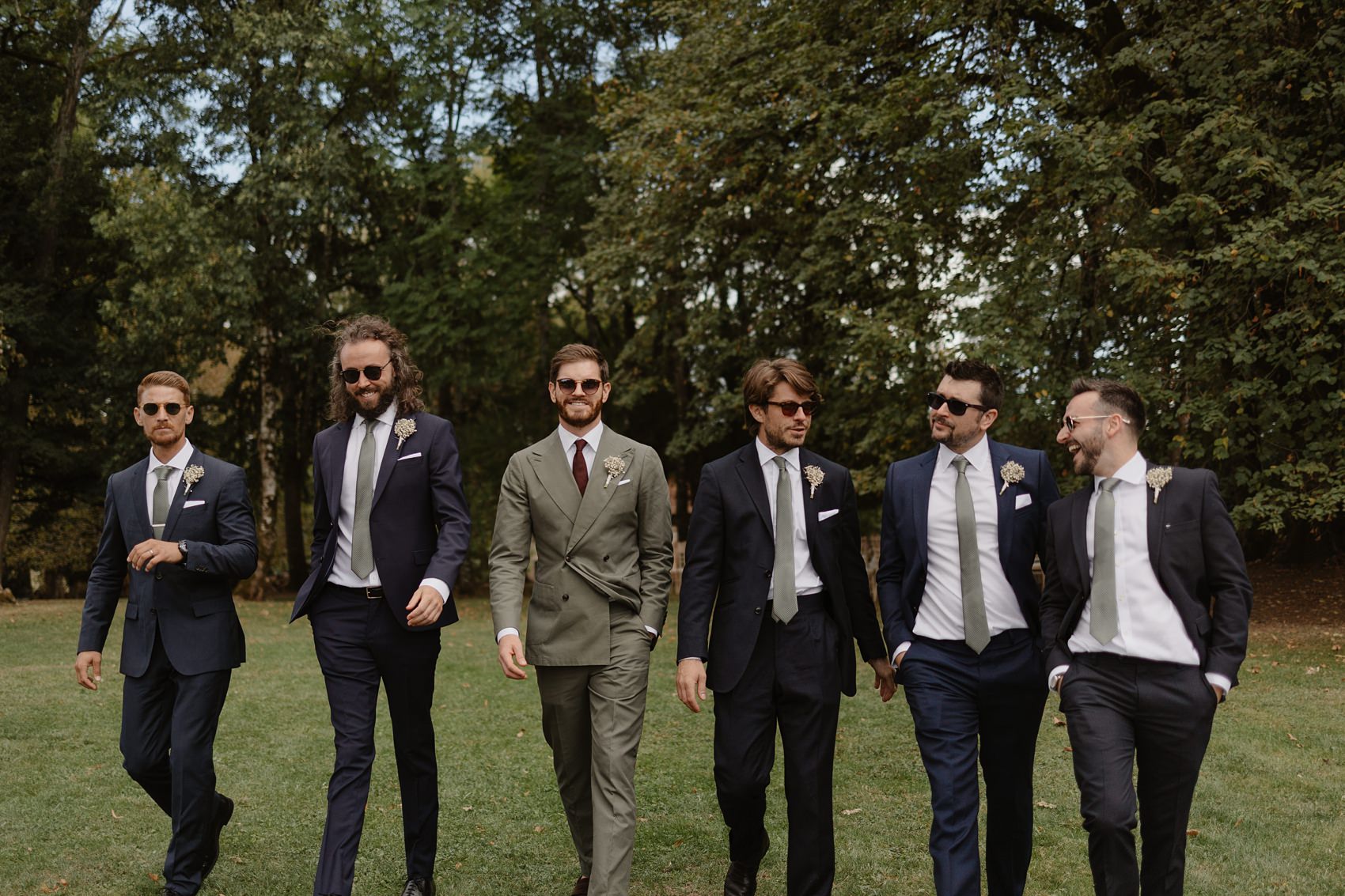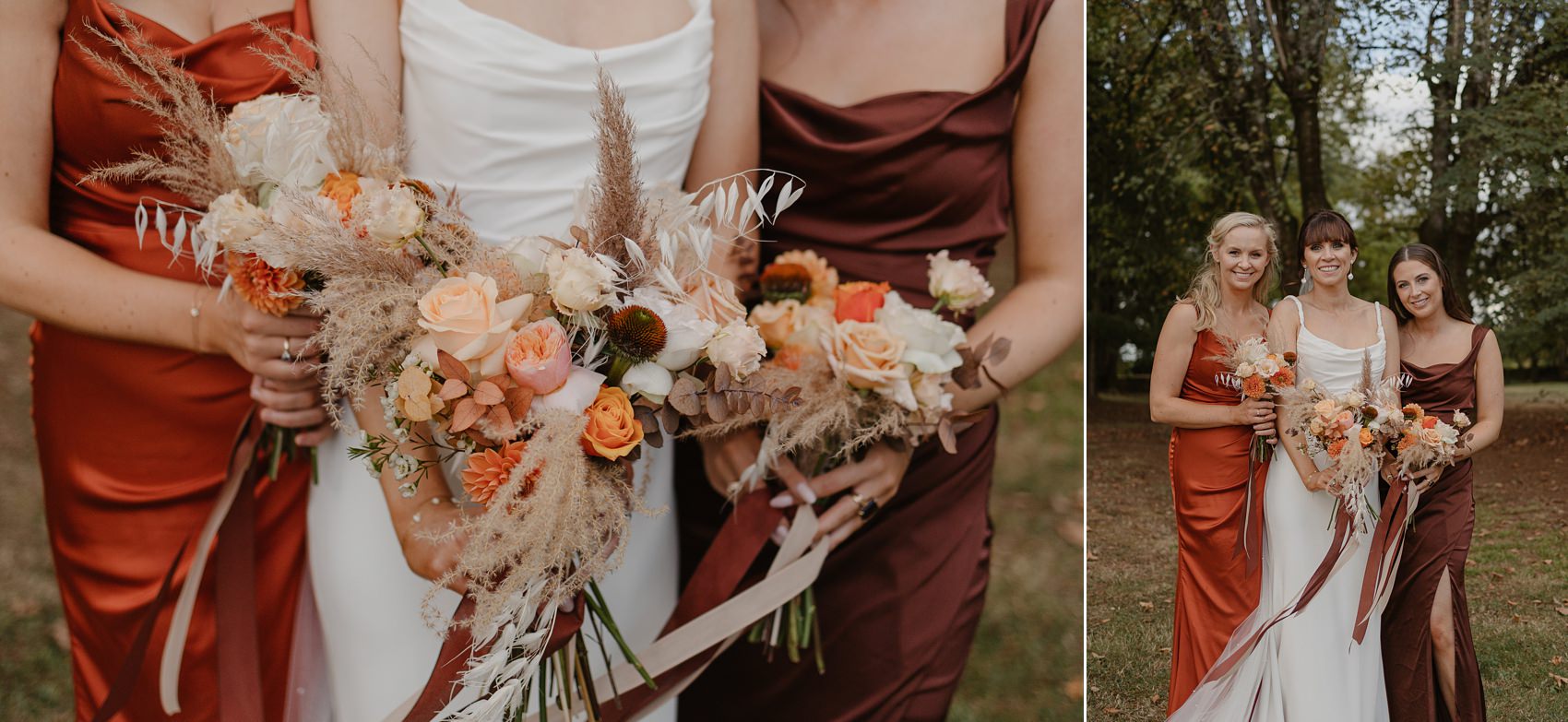 ABOUT THE PHOTO & VIDEO
Seóna: « Photography was high on our priority list and we worked hard to find a photography and videography partner who would be able to help bring our vision to life but in their own unique way.
We trawled the internet and Instagram to try and find the perfect look and feel and that is when we came across Jade Sequeval, an incredible French photographer, who alongside her partner and videographer Tom, would go on to play such an important part in making our wedding so special.
From the first hello up until now, communicating from abroad with Jade was a seamless, fabulous experience. She worked closely with us both, kept us updated and shared ideas – all with such positivity and enthusiasm. On the day of the wedding itself, both Jade and Tom were so professional but also made such an effort to engage with our family and friends. They worked tirelessly throughout the day, and we have no idea how they managed to fit in so much!
After the wedding, Jade shared all of the photos with us in the most beautiful gallery and they were truly a work of art. The colours of the edit, the types of photos taken, the emotions and happiness of the day – everything captured was just perfection! The video then followed, and we still feel like we want to watch it every day because I see something new each time. The video was honestly like an Oscar-worthy movie and everyone we shared it with was blown away by the level of professionalism. Besides being exceptional content creators, Jade and Tom are some of the nicest people we've ever worked with, we will remain firm friends. »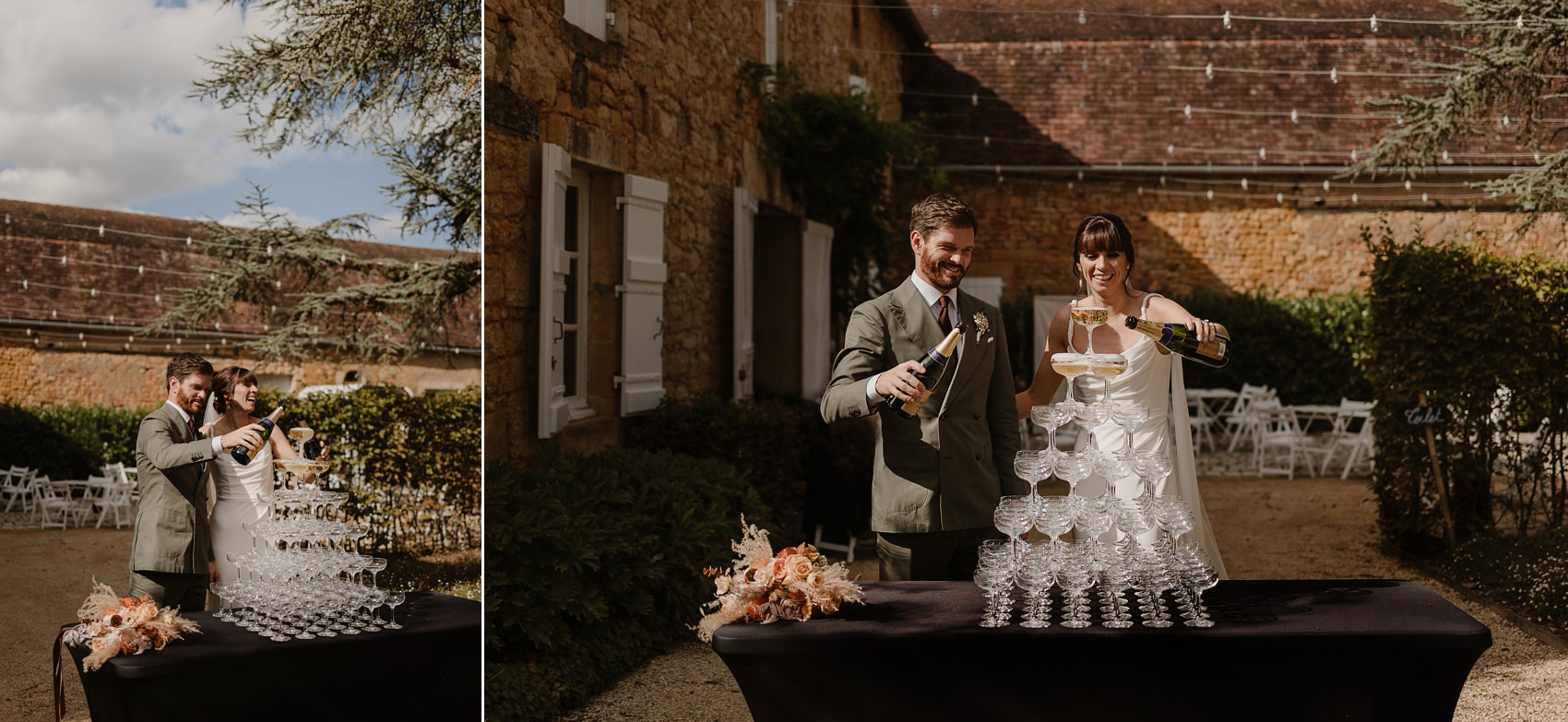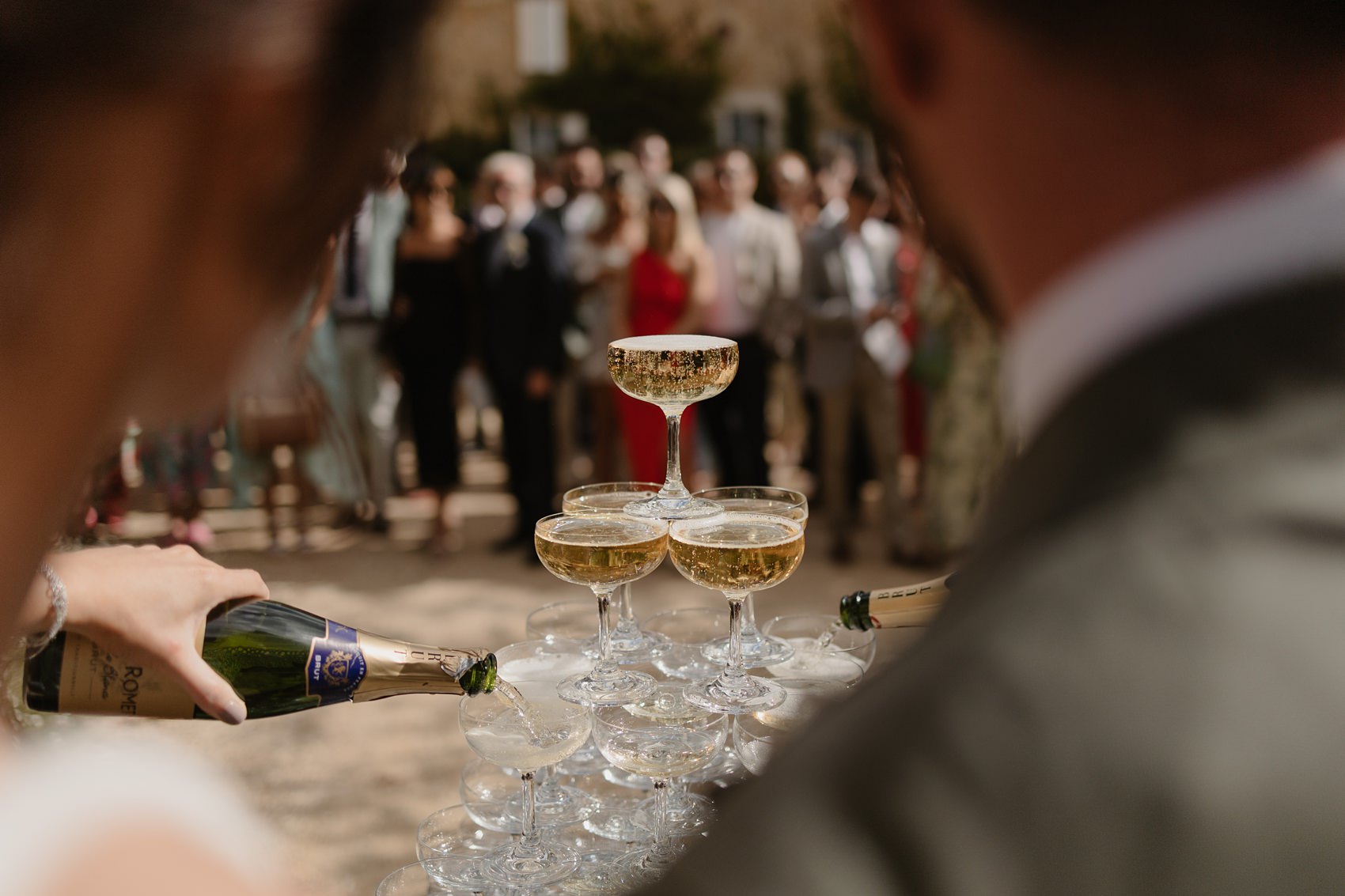 WHAT ADVICE WOULD YOU GIVE TO OTHER COUPLES?
Seóna: « Remember to breathe. Weddings are supposed to be a lovely and exciting time but in reality, they can be really stressful so just take each day as it comes and remind yourself that it will all work out just as it should. Also figure out early on what are the top three things that are important to you, what are your non-negotiables, and then get those sorted first. Then remind yourself that everything else was more on your nice « to do » or « have » list. »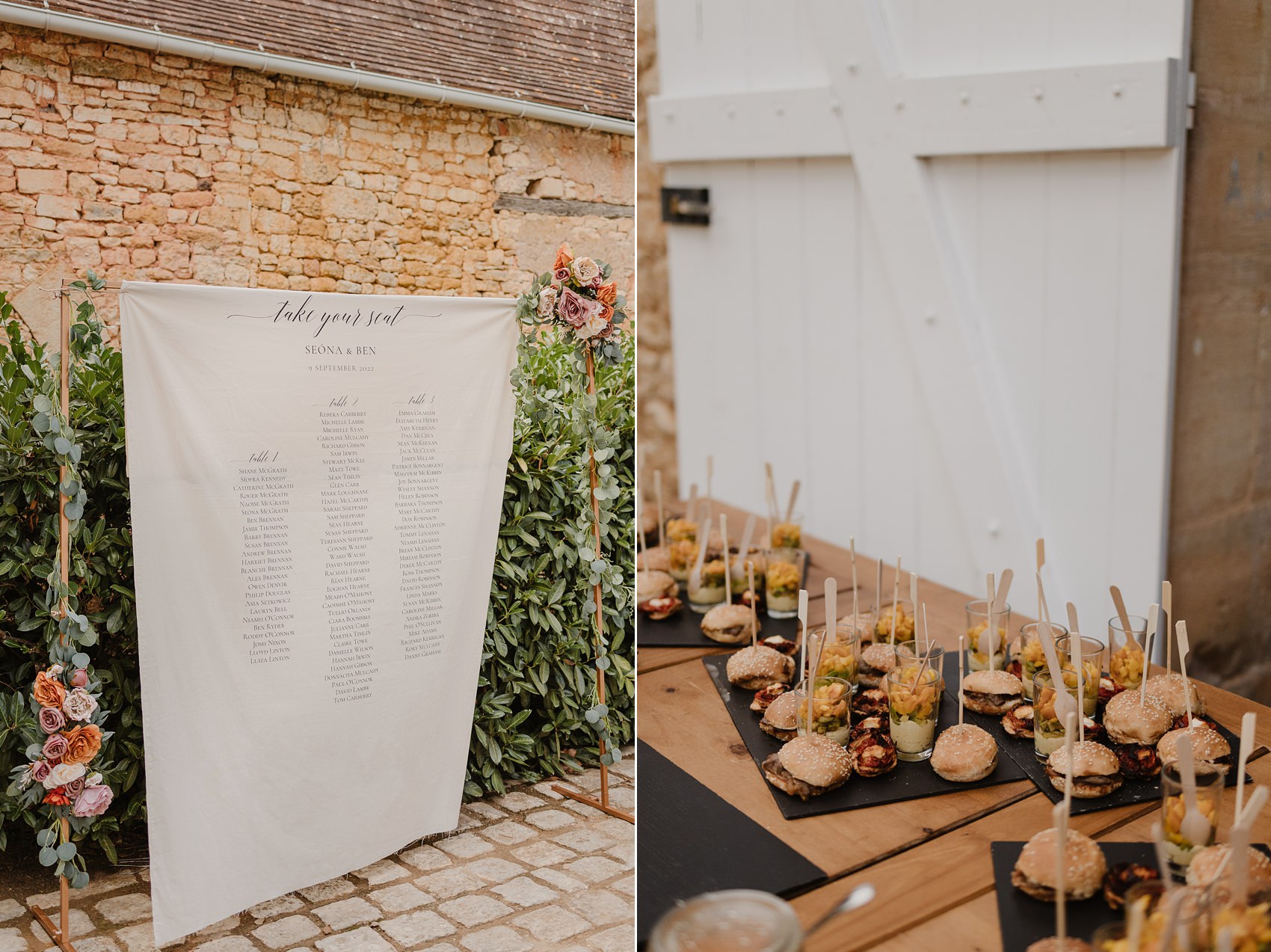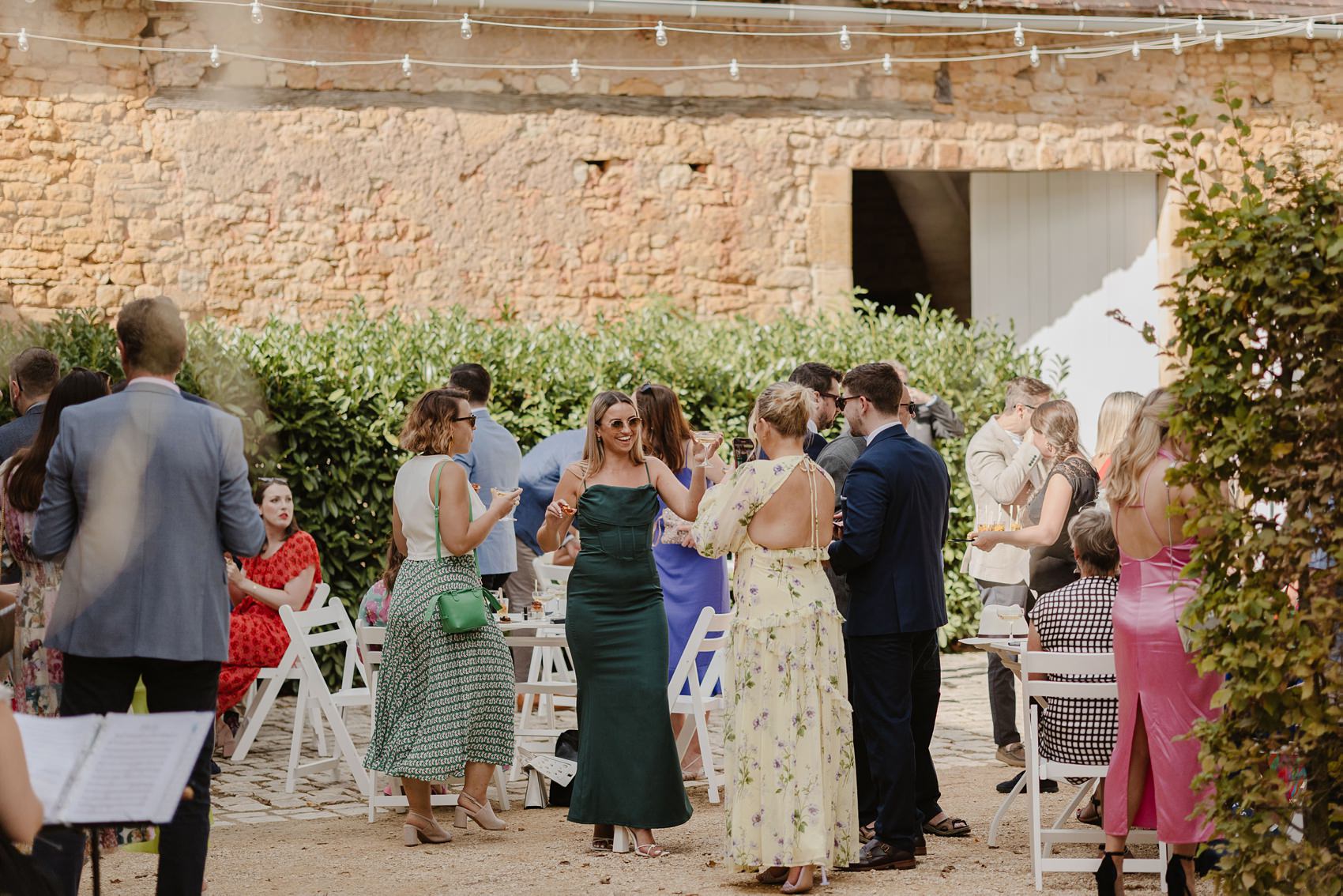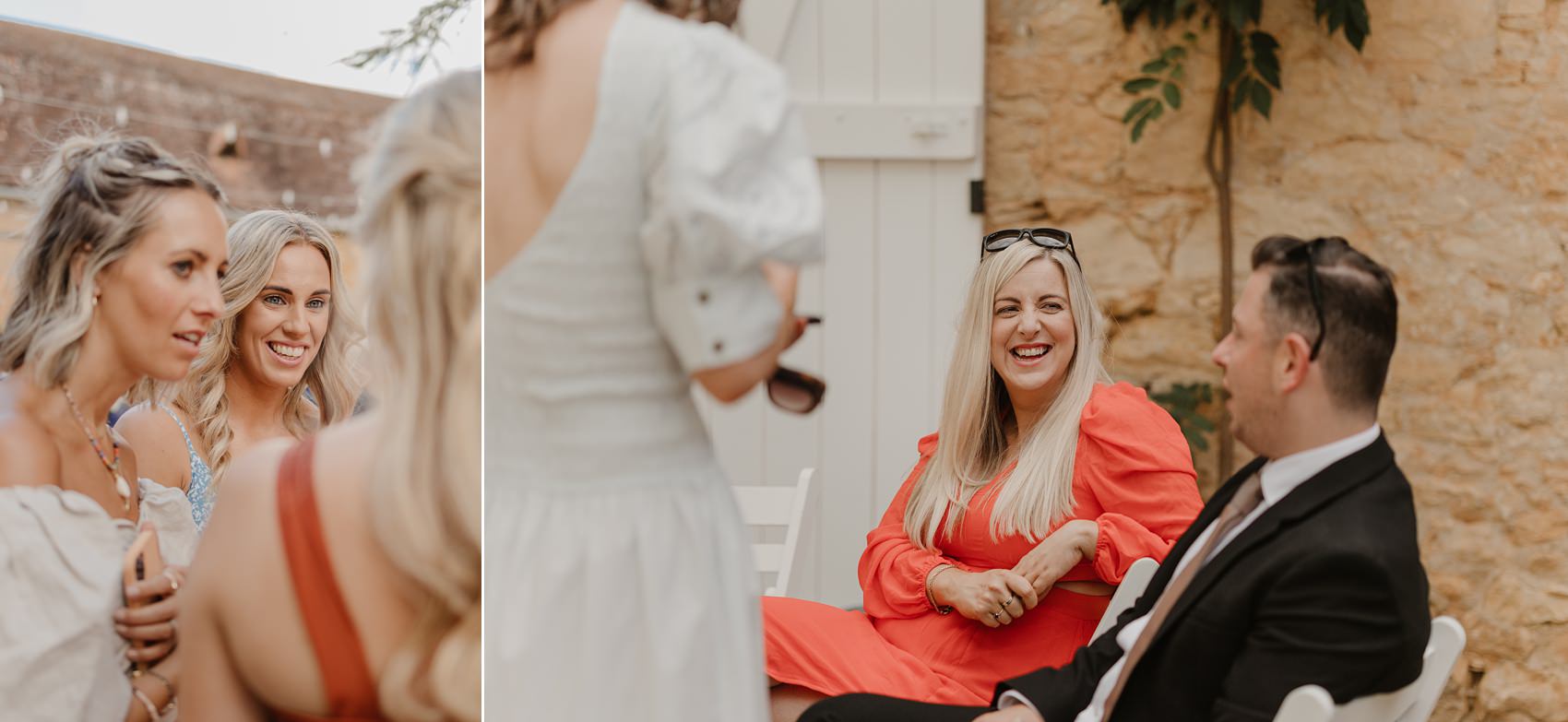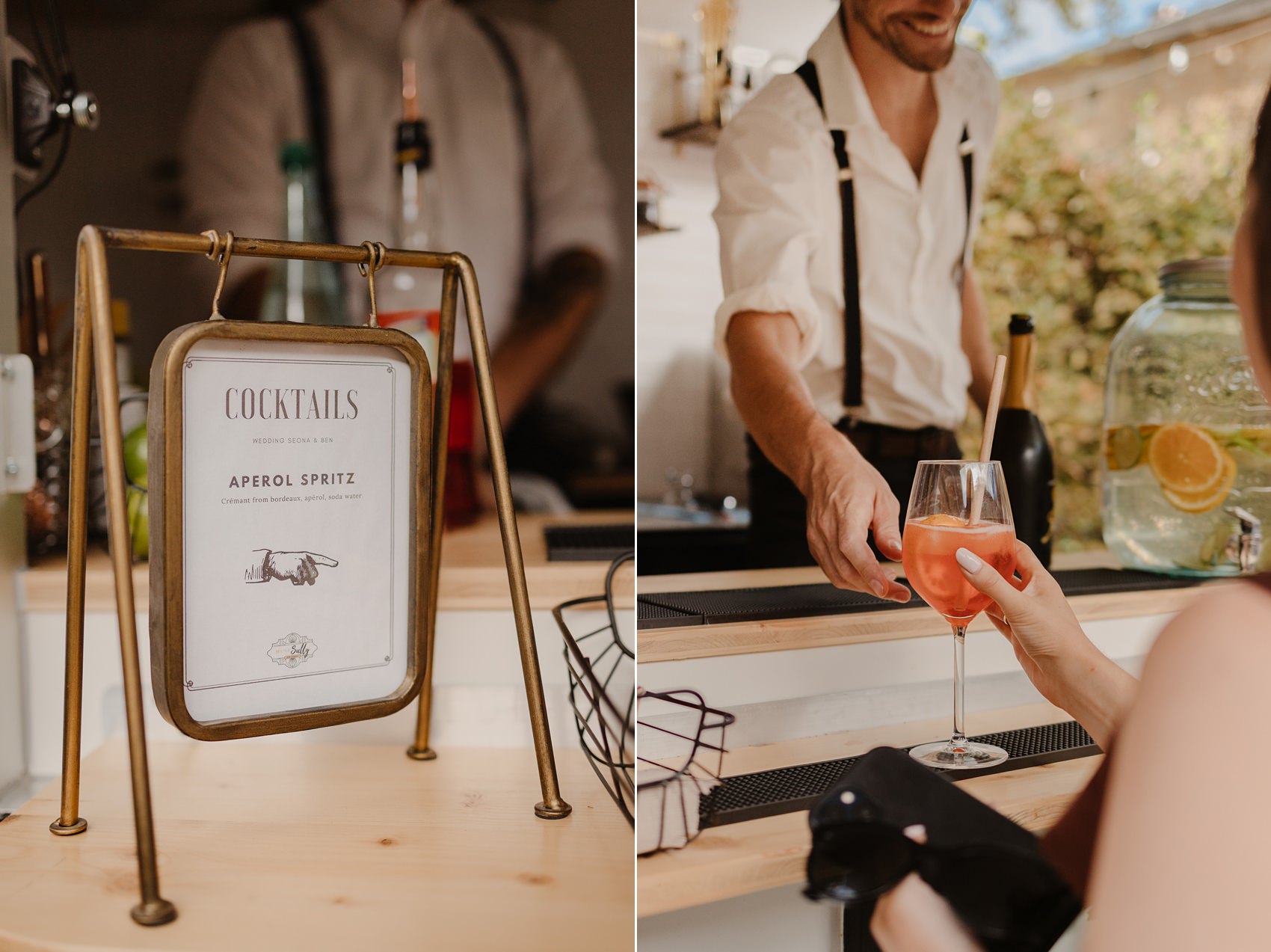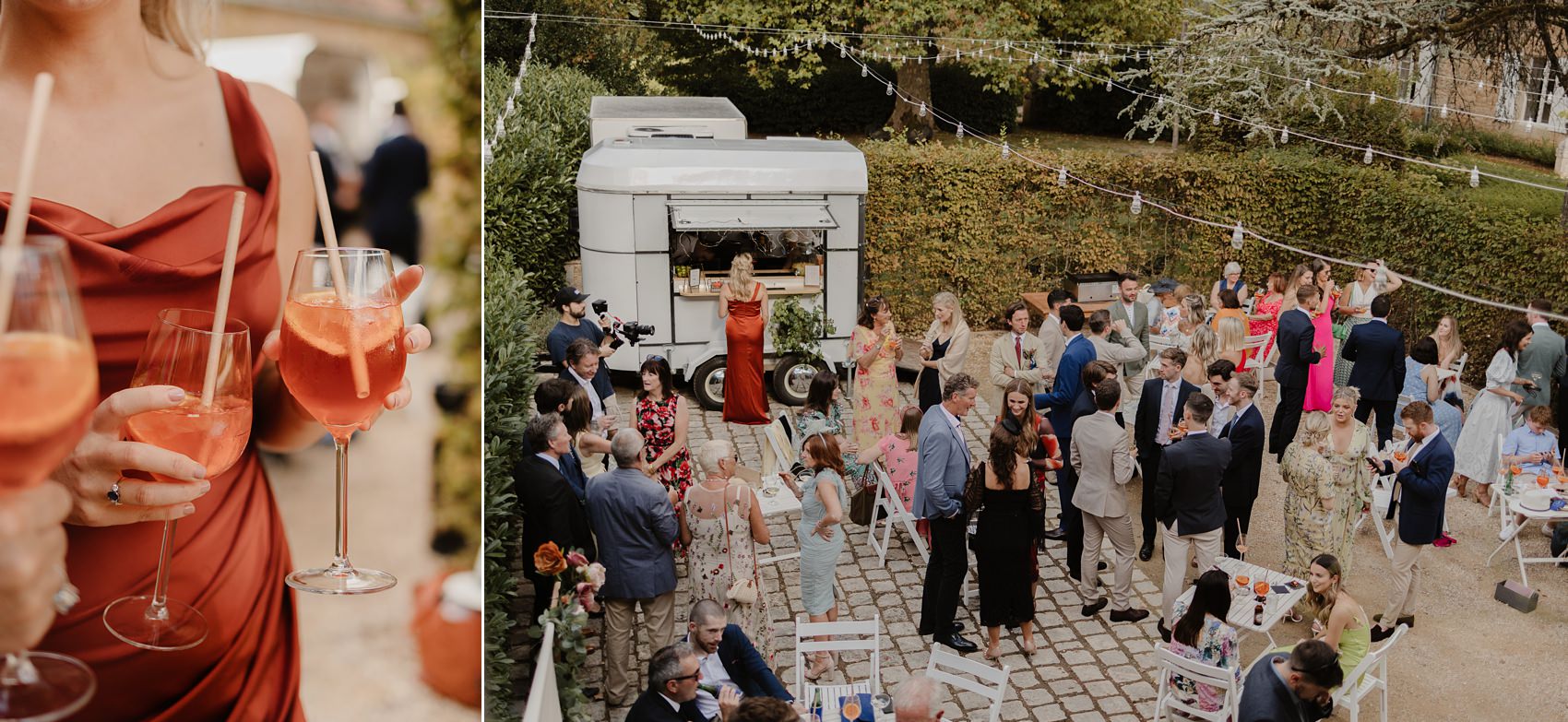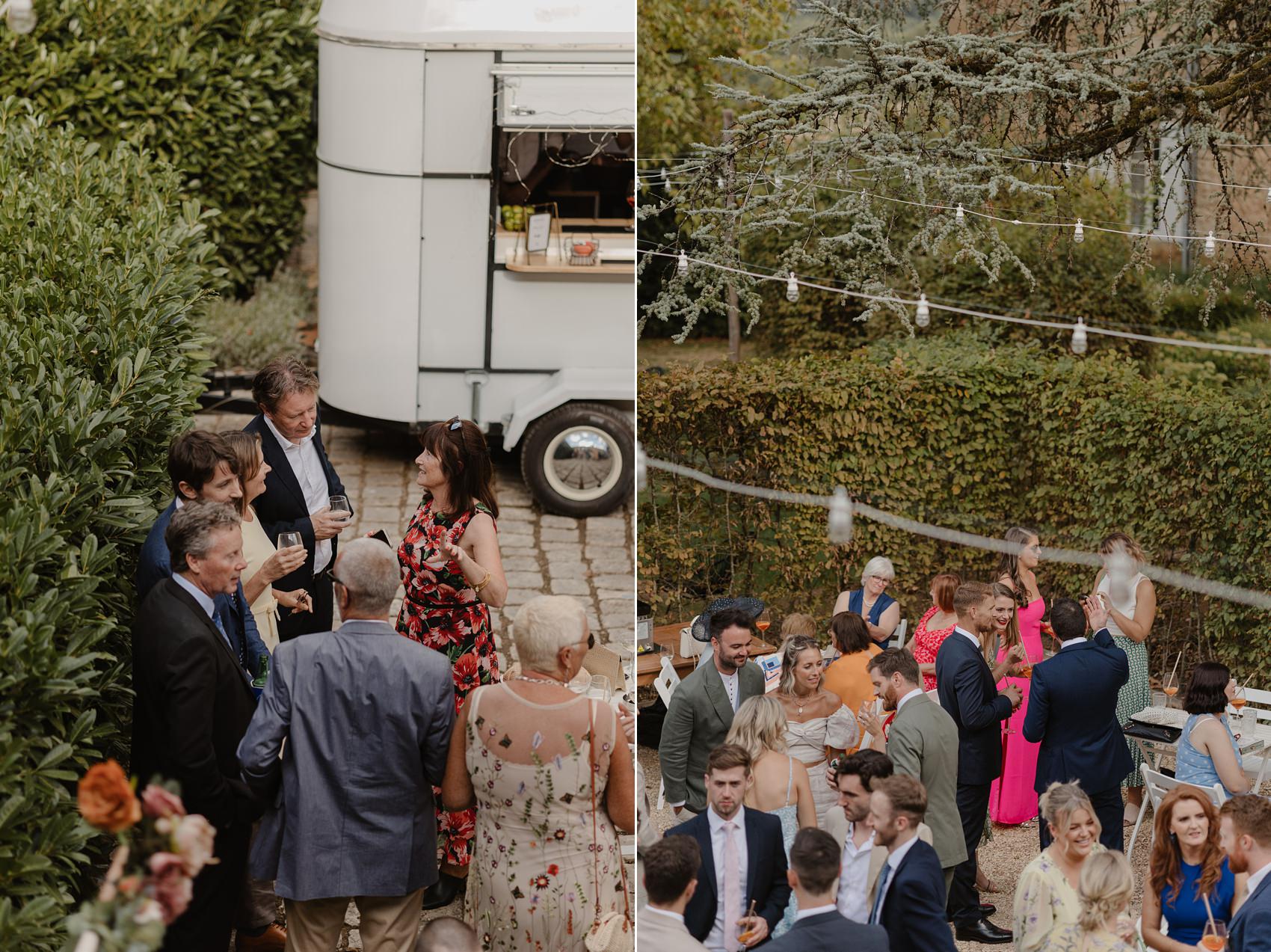 WHERE DID YOU GO ON YOUR HONEYMOON?
Ben: « We went to Paris for a week after the wedding to unwind in one of our favourite cities. We then went to Vietnam in February for two weeks, visiting DaNang, Hoi An, Phu Quoc island and then Ho Chi Minh City. It was the second time we had both been there, but not together, and we loved every second of getting to explore both familiar and new places. It is one of the most fantastic countries and well worth a visit. »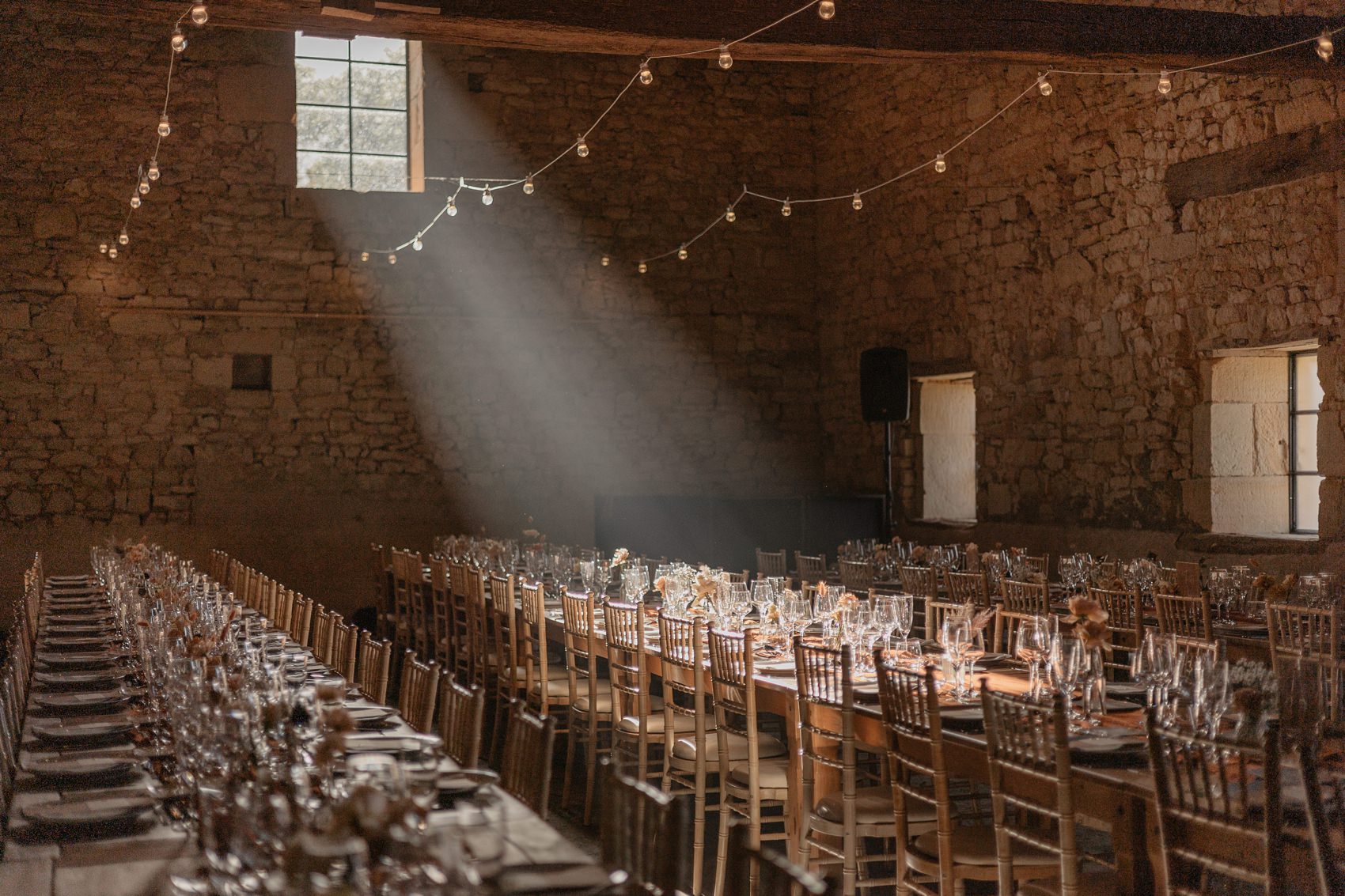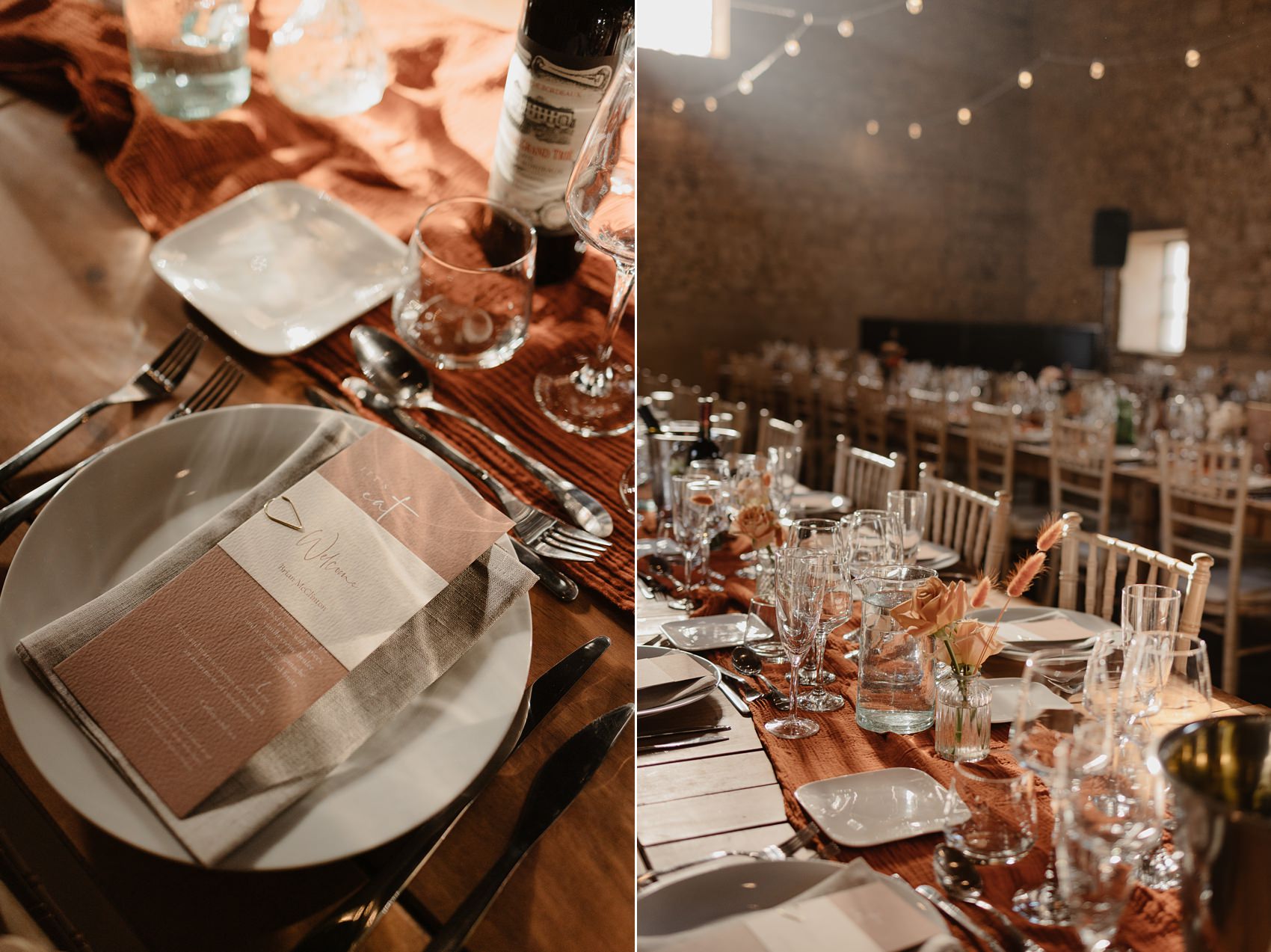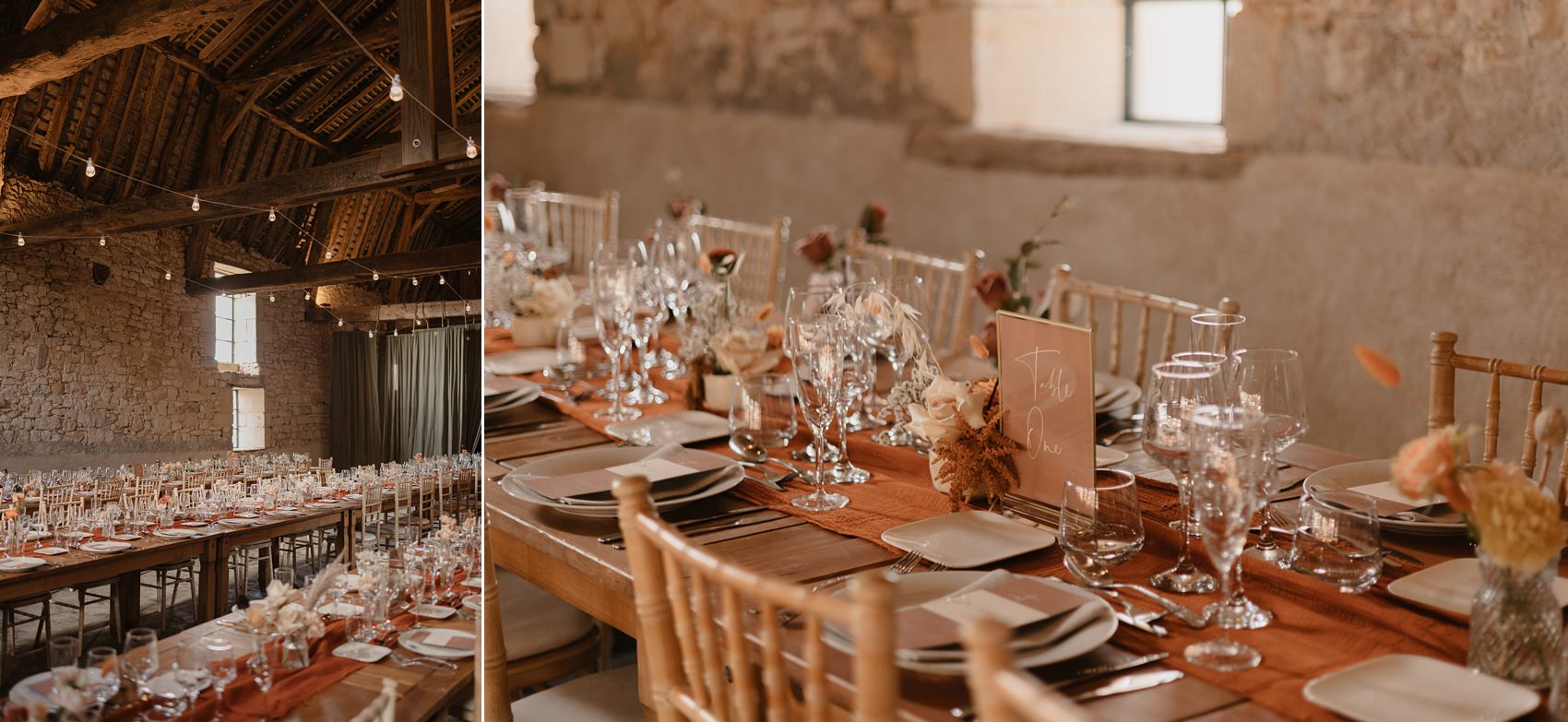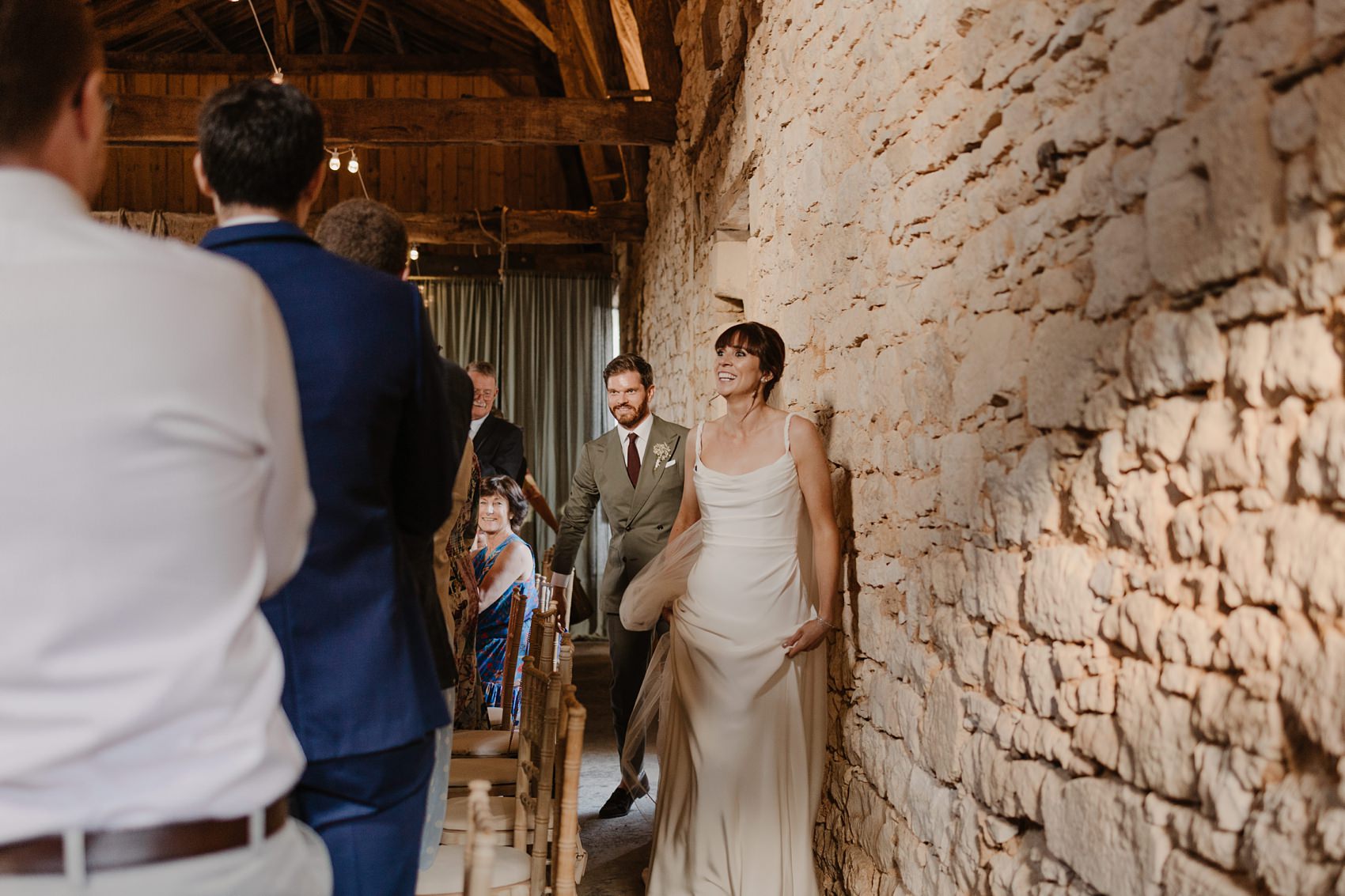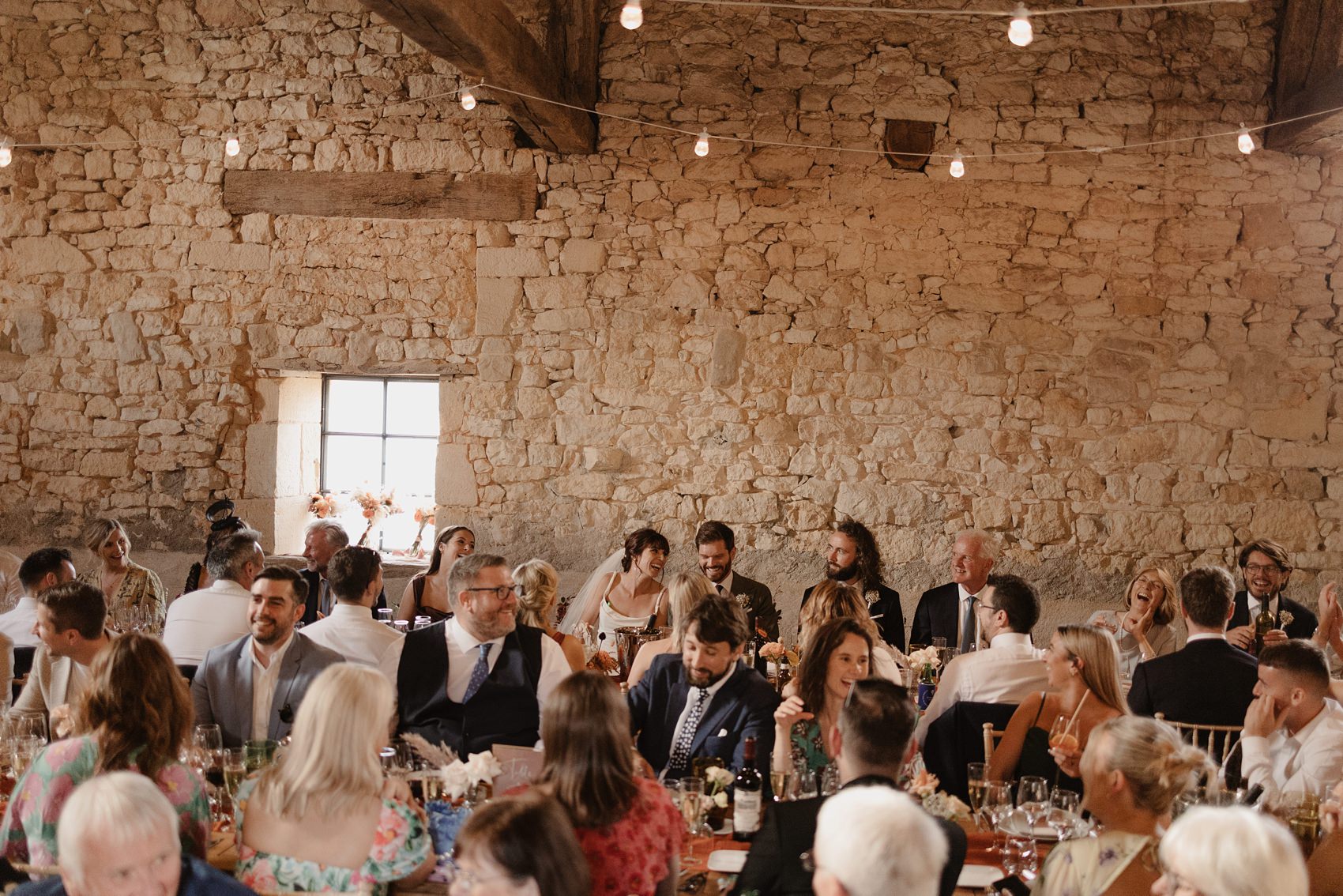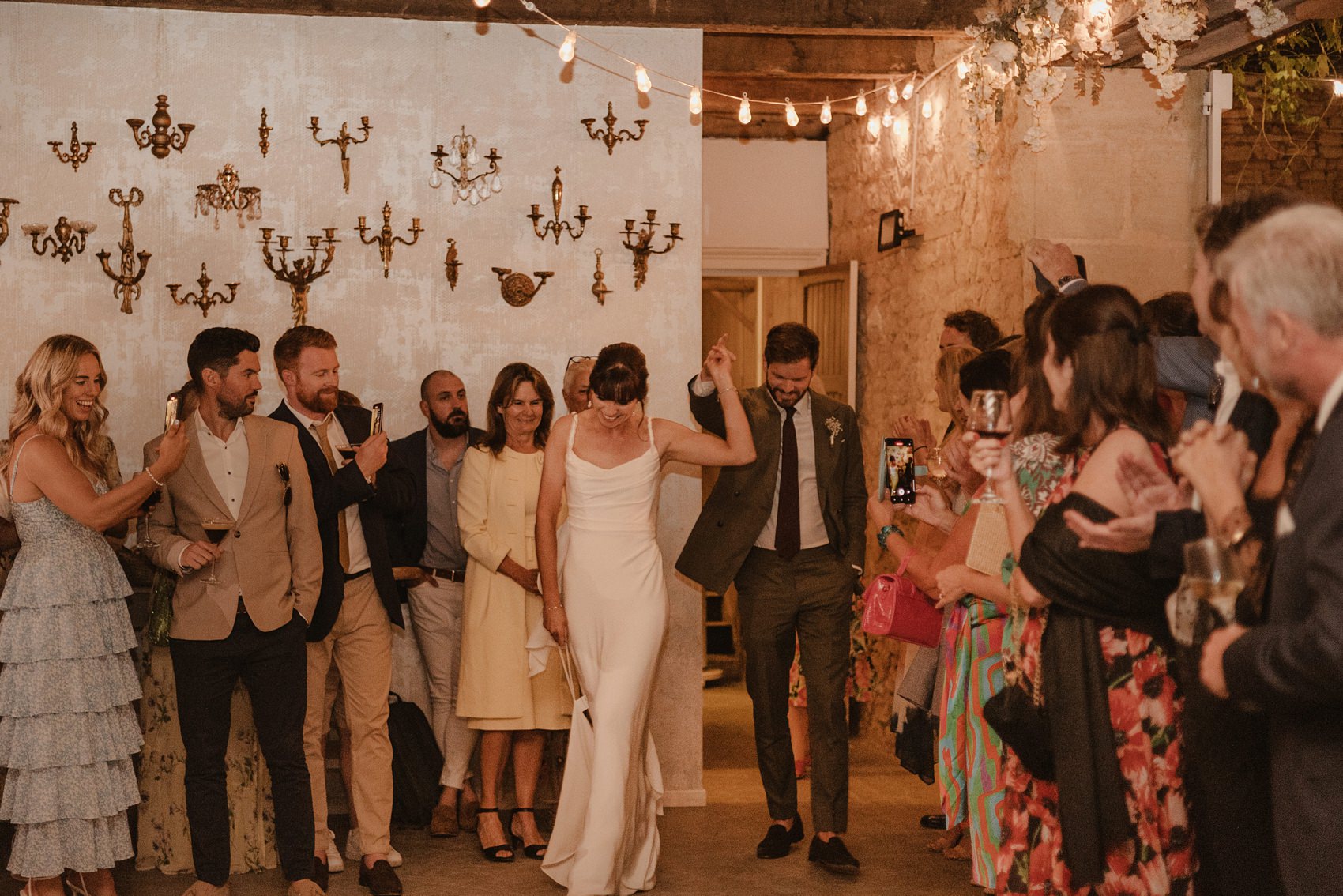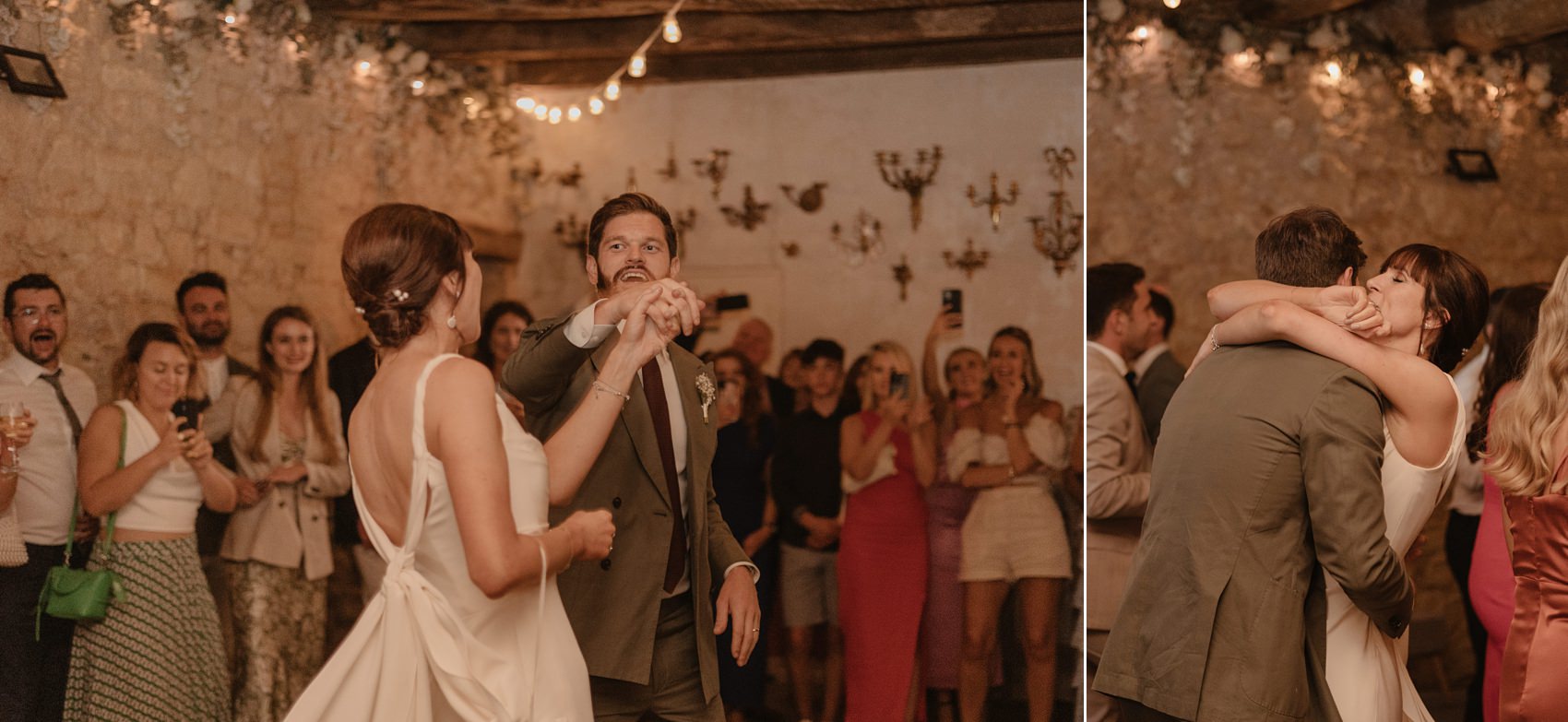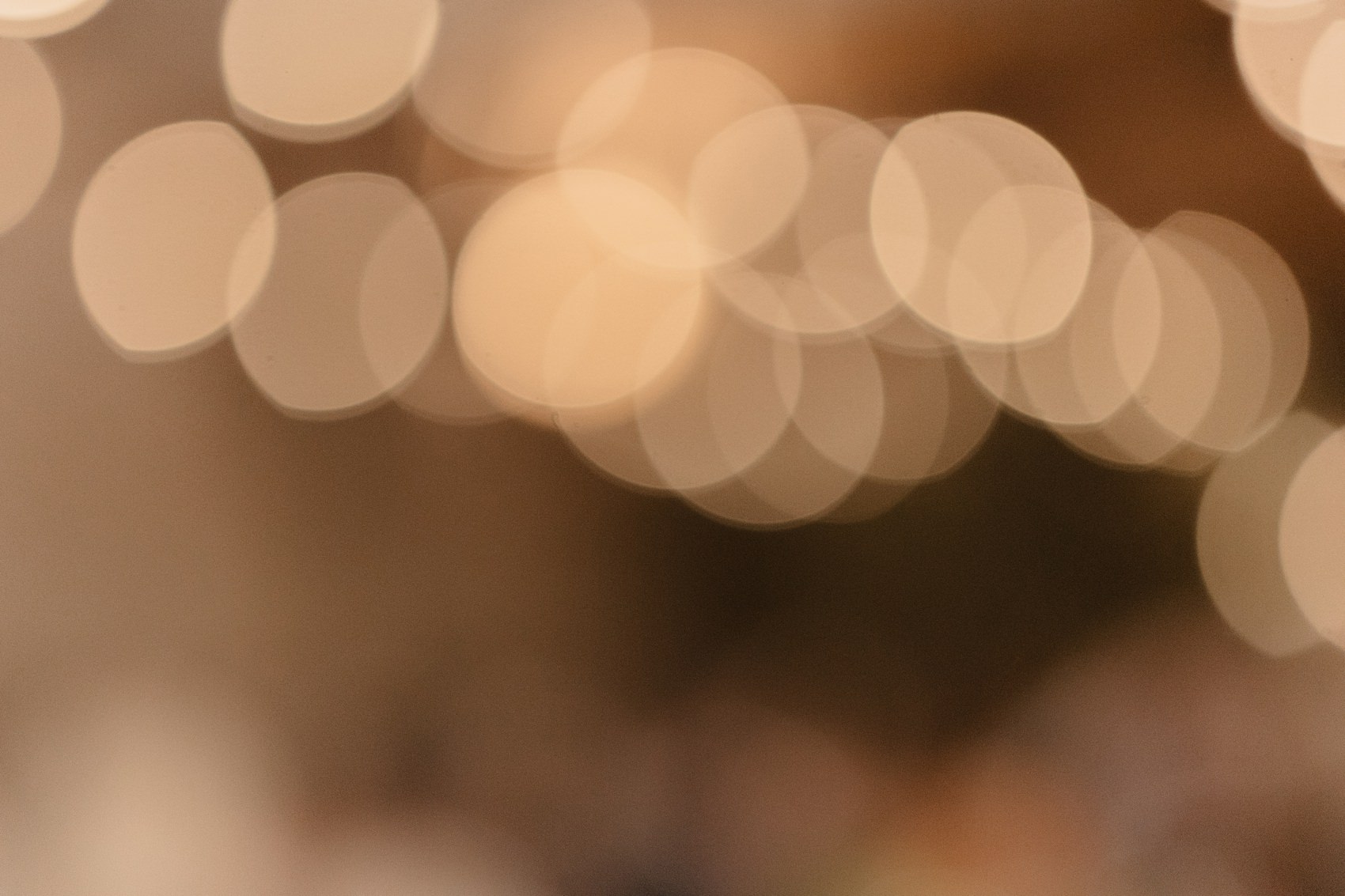 ---
VENDORS OF THIS BACKYARD WEDDING AT CHATEAU DE REDON

VENUE: Château de Redon | PHOTOGRAPHER AND VIDEOGRAPHER: Jade Sequeval | FLOWERS: Mrs Whiterose | WEDDING DRESS: Savannah Miller from Petticoat Lane | BRIDAL SHOES: Stuart Weitzman | VEIL: Richard Design | EARRINGS: One Dame Lane | GROOM'S SUIT: Suit Supply London | GROOM'S SHOES: Crockett & Jones | BRIDESMAIDS DRESSES: Oh Hello Clothing | CELEBRANT: Sandie Smith | COCKTAIL BAR: Mr Sully | MAKEUP & HAIR: Laura Cawte | MUSIC: Ensemble Obbligato | DJ & BAND: Mixology Sax DJ | STATIONERY: The Bride herself | RINGS: from family jewellery